Donate to the Figge Art Museum
We invite you to enjoy all the wonderful benefits your support of the Figge Art Museum provides. In addition to great membership benefits, there's nothing like the satisfaction you'll feel knowing your contribution supports an extraordinary range of educational programs and exhibitions.
Be a part of something special—join today!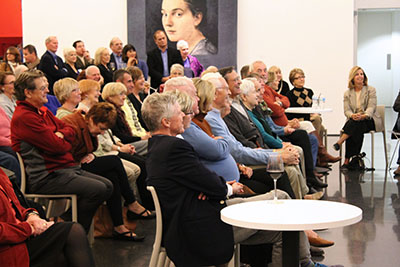 Annual Fund Drive: J 'adore the Figge!
Your gift to the Figge Annual Fund is what takes the Figge from ordinaire to merveilleux! We ask you to join us in saying "J 'adore!" to express your joy and delight for all the NEW accomplishments your Figge has achieved this year!
J 'adore seeing world class art right here at home, in my museum!
J 'adore Genie the robot!
J 'adore the NEW Regional Marketing Committee!
J 'adore Figge Docents
J 'adore Figge Gallery Hosts and Visitor Services!
J 'adore our Volunteers!
J 'adore the Family Activity Center!
J 'adore Figge Ambassadors!
J 'adore our reciprocal partnerships!
J 'adore Emembership!
J 'adore the new website!
J 'adore Major Exhibitions Endowment Donors!
Those achievements demonstrate an institution moving forward and attaining new heights of excellence. Your museum has stepped up to meet its challenges and its mission; bringing art and people together.
YOU can help!
Please consider making a gift in support of the annual fund. Your unrestricted, tax-deductible gift enables us to continue to move forward into an exciting future!
Annual Giving
We wish to renew our membership or become a member at the level indicated. Scroll over levels for a listing of benefits. All donor levels include annual membership to the Figge. Recognition and membership in the Friends of the Figge begins at the Benefactor level.
Donor Levels
---
Benefactor $150
---
Investor $250
---
Steward $500
---
Artist $1,250
---
Patron $2,500
---
Ambassador $5,000
---
Philanthropist $10,000
---
C.A. Ficke Giving Society

We are deeply grateful for the generous gifts from our C.A. Ficke Giving Society members, and we would be pleased to honor you with membership in this group. Your planned gift, along with those of other C.A. Ficke Society members, will sustain the Figge Art Museum and help it grow for generations to come.

You do not need to be wealthy to leave a legacy. As outlined in the Gift Options section, many planned giving options exist to enable people in all walks of life to leave a legacy at the Figge. In addition to potential tax benefits, C.A. Ficke Society members also receive special benefits that include:

Exclusive invitations to museum events and programs
Recognition on the Figge's donor panel (if desired)
Recognition in the annual report and other publications (if desired)
Invitation to the Annual Recognition Event
If you have included the Figge in your estate plans and wish to be recognized as a member of the C.A. Ficke Society, please contact us to submit the requested information.
"Each generation must pay to succeeding generations the debt it owes to preceding ones." — C. A. Ficke
The Davenport Municipal Art Gallery, later renamed the Figge Art Museum, became a reality in October, 1925, when Charles August Ficke donated his extensive art collections to the City of Davenport. Charles Ficke was born in Germany in 1850. His family settled in Scott County, Iowa, and at the age of 13, he moved alone to Davenport to enroll in the public schools. He worked as a store clerk and bank cashier before leaving to attend law school in Albany, NY. While attending law school, he visited the Centennial Exposition in Philadelphia. He later credited this visit with sharpening his vague interest in art into something approaching devotion.
After serving two terms as mayor of Davenport, Charles spent the next several years traveling the world. On those trips, Charles acquired many artistic and cultural items, establishing the foundation of what would become an extensive art collection. In 1924, Ficke told the Davenport City Council he would donate his art collections to the city. Charles sent a formal letter to the city council stating that he would deliver 270 paintings to the city as soon as the building was ready, and that the balance of the collection would be left to the city when he and his wife passed away. At that time, Robert E. Harsche, then Director of the Chicago Art institute, stated, "No public gallery in America, that he knew of…had started out with such a large number of important paintings as a nucleus." Charles Ficke died on December 10, 1931, at the age of 81, leaving behind a legacy of generosity and civic support that is not easily equaled in the history of Davenport.
---
Is Membership in the C.A. Ficke Society for You?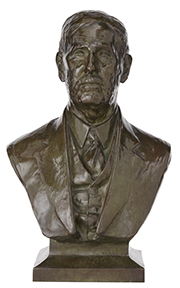 On my first visit to the Figge, a bronze bust graced the entrance to the first floor Orientation Gallery. It was hard not to admire the figure's detail as I followed the lines of the lapels up to the man's chin, and then to his eyes. I had no idea who he was. But—anxious to see the treasures upstairs—I, too, walked past him as I see many others do today.

That portrait bust, commissioned in 1925 and sculpted by Lorado Taft, represents the likeness of Charles August Ficke.
C.A. Ficke—a local family man, attorney and mayor—gave his entire art collection to the City of Davenport on the condition that the city establish an art gallery to house and maintain the works in perpetuity.

I recently borrowed Ficke's autobiography, Memories of Fourscore Years, from our curator, Dr. Rima Girnius. Ficke's energy and excitement radiated through the pages as he traveled and selectively grew a collection of master works. All the while, he intended to add to the greatness of our community by gifting that collection to the City of Davenport and, therefore, to us as his beneficiaries.

Today, I keep a picture of Ficke's bronze bust in my office. It serves as a reminder of those who have come before us and without whom there would be no "treasures" upstairs to rush in to see.

During your next visit, take a moment to behold Ficke's bronze likeness. As you do, consider joining the C.A. Ficke Society with a planned gift of $1,000 or more from your estate. Gifts may include stocks, securities, IRAs, or making the Figge a beneficiary of a retirement plan or other asset, and may be made as a specific amount or percentage. Each gift benefits the endowment of the Figge Art Museum and will enrich the lives of those in our community for generations to come.
Raelene Pullen, Director of Development
Planned Giving
The generosity of our donors enables the Figge Art Museum to touch the lives of over 111,000 Quad-City residents each year through exhibits, educational programs, and outreach activities. Your support provides the resources we need to impact the lives of thousands of children and adults.
We are pleased that you have an interest in learning about the many benefits of making a planned gift. If you have any questions about the best way for you to benefit through a planned gift, please call. A member of our Planned Giving Team will be very pleased to help you.