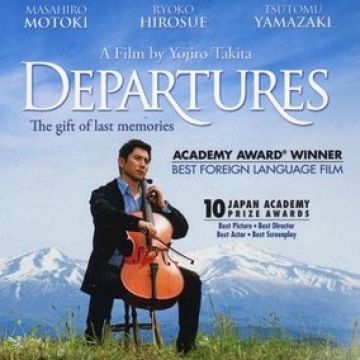 EVENT
Film at the Figge: Departures
September 29, 2022 | 6:30pm - 8:00pm
LOCATION: Figge Art Museum
Join us in the John Deere Auditorium for the Film at the Figge Art Museum series. This fall four remarkable award-winning films that deal with death, loss, and grief in unexpected ways will be shown. The first film in the series is Departures (2008). Stick around for a glass of wine and casual discussion immediately following the film in the Mary Waterman Gildehaus Community Gallery outside of the John Deere Auditorium.
About Departures (2008):
Daigo, a professional cellist is left jobless when his Tokyo orchestra disbands. Looking for work, he answers a classified ad with the headline "Departures" that he believes to be a position with a travel agency. The job will change the course of his life.

VIEW TRAILER HERE

Awards:
Academy Award: Best Foreign Language Film (2009)
Japanese Academy Awards (10 wins; 13 nominations)
Best Film, Director, Actor, Screenplay, Cinematograpy, Supporting Actor, Supporting Actress.

Programs and free admission for Thursdays at the Figge is sponsored by Chris and Mary Rayburn
ART & MORE