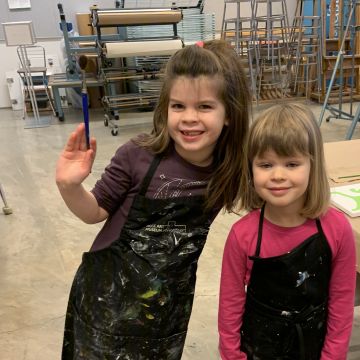 EVENT
Magnetic West Virtual Family Day
September 19, 2020 | 10:00am - 5:00pm
LOCATION: Virtual
Experience the fun of Free Family Day from the safety and comfort of your home by registering for FREE Family Day access. With your Family Day access, YOU CHOOSE YOUR TIME TO VIEW! Registrants can view content as many or as few times as they wish during a two-week period. Once registered, families have the option of picking up FREE action packs full of materials to go along with your link to view special videos relating to the featured exhibition Magnetic West: The Enduring Allure of the American West. Join Figge education staffers as we create, discuss and wonder together, apart.
Action Packs contain art supplies to create your project along with us, a Free Admission pass to come to the museum on your schedule to view the art, a coupon for the Museum Store, and family discussion questions.
Each person registered can receive an Action Pack (Caregiver registers their family of 5 – family can pick up 5 bags). Packs can be picked up at the museum's front desk during business hours. Action Pack pickup dates are Tuesday, September 15th through Sunday, September 20th.
Once registered, you will receive an invitation to view the video lineup. After the listed launch date, Saturday September 19th, families will have access to view whenever their schedule permits through October 4th! Only the email used during registration will have access.
Step 1: Register (Now! Or by September 19th)
Step 2: Pick up Family Action Pack(s) between September 15th and September 20th.
Step 3: View when you want to – Visit the museum or enjoy virtual access through October 4th, 2020.
All are welcome!
ART & MORE