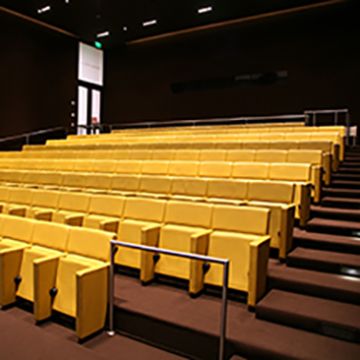 EVENT
Member Movie Marathon
December 4, 2020 | 10:30am - 4:15pm
LOCATION: John Deere Auditorium
Join us for one or more of our film viewings. Groups will be assigned seats in the John Deere Auditorium to allow for proper social distancing. Click on the links below to register for a film (must register for each film individually).
10:30 am – my kid could paint that (2008) (Est. 1.5 hours) - Click here
The movie follows the early artistic career of Marla Olmstead, a young girl from Binghamton, New York who gains fame first as a child prodigy painter of abstract art, and then becomes the subject of controversy concerning whether she truly completed the paintings herself or did so with her parents' assistance and/or direction.

1:00 pm – The Rape of Europa (2006) (Est. 2 hours) - Click here
The story of Nazi Germany's plundering of Europe's great works of art during World War II and Allied efforts to minimize the damage.

3:15 pm – The Show That Shook The World (2013) (Est. 1 hour) - Click here
This is the first film ever to record the history of one of the most important cultural events of the twentieth century - the 1913 International Exhibition of Modern Art. Now celebrating its 100th anniversary, the exhibition - known as 'The Armory Show' - prompted a storm of controversy. Introducing such 'unknown' artists as Picasso, Matisse and Gauguin, the work most vilified by an outraged public was Marcel Duchamp's 'Nude Descending a Staircase.' Featuring a previously unknown illustrated talk by Duchamp (recorded by the producer), the film presents the dramatic history behind the infamous show, including rare archival photographs of the event.

ART & MORE