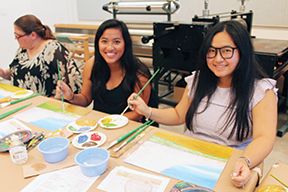 PROGRAM
Wine & Art
Monthly
LOCATION: Figge Art Museum
Enjoy a variety of studio classes paired with a glass of wine, light hors d'oeuvres and socializing during Wine & Art. Each session features a different art medium, and you'll create finished artworks to display in your home.

Sessions cost $20/student; supplies, snacks and wine are provided. Pre-registration is required. Click on desired session to register or call 563.345.6630.

Painting – Dare to Rediscover Finger Painting!
6 – 8 p.m. Thursday, April 4
Instructor – Amy Nielson
Loosen up and get creative in this not-to-be-missed Wine & Art night. Re-learn the art of finger painting with artist Amy Nielsen and create a fun, colorful painting using just your fingers as brushes to create acrylic and tempera paintings. This is not your kindergartner's art class! Gloves will be provided to keep fingers clean.
Pastels
6 - 8 p.m. Thursday, May 2
Instructor: Allen Holloway
Create a colorful spring landscape in soft pastels using blending and layering techniques shared by artist Allen Holloway. Add new life to your walls with the new art you make in this fun, social class!
ART & MORE