Mission Statement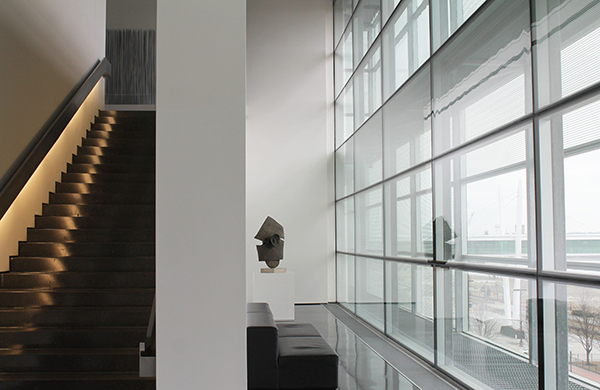 Bringing art and people together. We enrich our community with the experience of art through education, collections, exhibitions and preservation.
The Museum
The Figge Art Museum is the premier art exhibition and education facility between Chicago and Des Moines. Its landmark glass building on the banks of the Mississippi, designed by British architect David Chipperfield, is home to one of the Midwest's finest art collections, and presents world-class traveling exhibitions. Its studios, auditorium and spacious lobby are alive with art classes, lectures and special events that attract visitors of all ages.

The Figge was formed as the Davenport Municipal Art Gallery in 1925, with the passage of a law allowing the city to accept of a gift of 330 artworks from a former mayor, Charles A. Ficke, and open a museum. It was renamed the Davenport Museum of Art in 1987. It continued to be a city-run museum until the opening of its new building in 2005, which was named in honor of a major gift from the V.O. and Elizabeth Kahl Figge Foundation. At that time, the city transferred responsibility for management, care and exhibition of its collection to the Figge Art Museum, a nonprofit organization. Mr. Ficke's original collection of European, American and Spanish Viceregal art has grown through the efforts of generations of philanthropists and civic leaders and now includes the Grant Wood Archive and works by other American Regionalist artists, an extensive collection of Haitian art, and contemporary works. The Figge is accredited by the American Alliance of Museums.
Board of Directors
Executive Committee
Aleeza Singh, President
Ken Koupal, Immediate Past President
Samuel Skorepa, Vice President
Lee Gaston, Treasurer

Carmen Darland, Secretary
Carolyn Martin, MD At Large

Tom Terronez, At Large

Denise Garrett, At Large
Board Members
John Anderson
Jonathan Burnett

Kyle Carter
Neil Dahlstrom
Nancy Danico
Dr. Joseph D'Souza, DDS
Dave Herrell
Mo Hyder
Mary Lou Kotecki, Ph.D
Marion Meginnis
Delia Meier
Sam Pilcher
Wynne Schafer
Tracy Schwind
Annika Tunberg
Archana Wagle
Dana Wilkinson