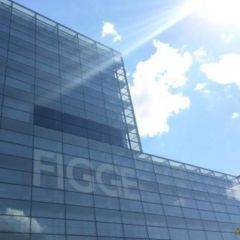 PRESS
A Moveable Museum: Works from the UIMA School Programs Collections
June 12, 2014
---
The Figge Art Museum is partnering with the University of Iowa Museum of Art (UIMA) to bring an exciting, interactive exhibition to the Mary Waterman Gildehaus Community Gallery. A Moveable Museum: Works from the UIMA School Programs Collection opens Saturday and is curated by Dale Fisher, curator of education at UIMA, with the assistance of UIMA and Figge staff members.

Since the Iowa flood of 2008, the UIMA has been unable to serve audiences in traditional ways and has used the UIMA School Programs in order to continue education about art. This outreach program impacts thousands of K-12 art, social studies and language arts students across the state of Iowa each year.

The collection is usually reserved for classrooms throughout the state, but for the first time will be on view as a comprehensive exhibition. A Moveable Museum will give visitors a unique opportunity to participate in a hands-on experience with works from five continents as well as works demonstrating a wide range of media.

Guests are encouraged to interact and familiarize themselves with the art first-hand through handling a selection of works and utilizing the Ipads which will offer a better understanding of what is on display. Docents and museum staff will be in the gallery assisting people with the interactive artwork.

From ceramics and wood carvings to quilts and graphic novels, the wide variety of artwork provides something for everyone.

UIMA Education Partners, made up of private foundations, corporate and individual sponsors, fund the purchase of artworks for this program. The works travel to schools, libraries and other educations settings. Each year teacher input is collected in regards to curricular objectives, which informs what type of new thematic collection will be added next.

A Moveable Museum will be on view through August 3, 2014.

Companion Events:
A Moveable Museum Opening Reception & Gallery Talk
Thursday, June 12
5:30 p.m. Reception for A Moveable Museum
7 p.m. Formal Remarks
Free Admission

Dale Fisher is the Curator of Education at the University of Iowa Museum of Art (UIMA). He will speak about the exhibition, including its history and the unique, hands-on opportunities that come with it.