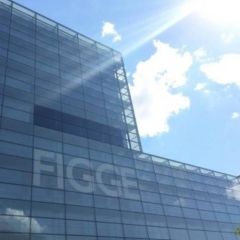 PRESS RELEASE
Figge Café Reopening Tuesday, September 8
August 27, 2020
---
PRESS RELEASE
FOR IMMEDIATE RELEASE
Figge Café Reopening Tuesday, September 8
Davenport, Iowa (August 27, 2020) – The Figge Café, which has been closed since March 17 due to COVID, will be reopening to the public on Tuesday, September 8 at 11 a.m.
This reopening will feature the culinary skills of Chef Jason Stewart from Zeke's Island Café. Stewart, also known as "Chef Stu," is a classically trained chef who has a passion for creating food from different cultures around the world. He is also the 2020 People's Choice winner from the Figge's annual Cajun Cook-Off event.
"Chef Stu's energy, talent and creativity will be an excellent addition to the Figge Café," said Figge Executive Director and CEO Michelle Hargrave. "We look forward to the public having the opportunity to sample his delicious creations and be part of an exceptional culinary experience."
The new Figge Café menu will feature a variety of items from around the world including Hawaiian pulled pork sliders, Cubano sandwich, Jamaican jerk chicken, cantina tacos, shrimp po boy, Ropa Vieja (a Cuban style pot roast), garden salads with choice of meat, sweet treats including a crispy peanut butter banana egg roll and much more.
The Café will be open for lunch Tuesday-Saturday from 11 a.m.- 2 p.m. Seating will be socially distanced and there will be precautions in place to make sure the dining experience is safe and comfortable for all patrons.
"It is such an honor to join the Figge in connecting people to new experiences," said Chef Stu. "I am so excited to get a chance to offer features and flavors from all over the world."
A portion of every Figge Café purchase directly supports the Figge's mission of bringing art and people together. Figge members receive a 10% discount in the Café. Not a member? Join today by visiting www.figgeartmuseum.org.
About the Figge Art Museum:
The Figge Art Museum is dedicated to bringing art and people together. Located on the Mississippi River in downtown Davenport at 225 West Second Street, the Figge is the premier art exhibition and education facility between Chicago and Des Moines. Its landmark glass building, designed by British architect David Chipperfield, is home to one of the Midwest's finest art collections and hosts world-class traveling exhibitions, art classes, lectures, and special events that attract visitors of all ages. Museum hours are 10 a.m.­­-5 p.m. Tuesday, Wednesday, Friday, and Saturday; 10 a.m.-8 p.m. on Thursdays; and 12-5 p.m. on Sundays. Reservations are strongly encouraged and can be made at www.figgeartmuseum.org or by calling 563-345-6632. Reservation times are available at 10 a.m., 12:30 p.m. or 3 p.m. on Tuesday-Saturday; Thursdays there is also a 5:30 p.m. slot available for all. The 10 a.m. reservation period Tuesday-Friday will be reserved for those who are high-risk visitors. Admission to the museum is $10 for adults, $6 for seniors and students with ID and $4 children ages 4- 12. Admission is free to Figge members and institutional members and to all on Thursday evenings. To contact the museum, please call 563.326.7804, or visit www.figgeartmuseum.org.
–END–