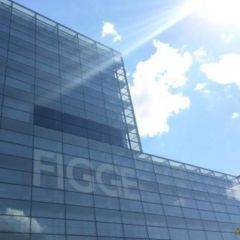 PRESS
From Pencil to Printed Page: Arthur Geisert's Thunderstorm
June 19, 2014
---
A new exhibition will open Saturday at the Figge Art Museum by local artist and award-winning author, Arthur Geisert, of Bernard, Iowa.

From Pencil to Printed Page: Arthur Geisert's Thunderstorm includes over 180 sketches, plates, print states and hand-colored illustrations immortalized in Geisert's 2013 picture book Thunderstorm.

Figge visitors will have the unique opportunity to examine Geisert's trademark copperplate etchings, a technique that dates back to 1500, while also gaining insight into his artistic process. From his initial pencil sketches through four stages of printing states to the final, painstakingly hand-colored illustrations, the entire progression will be shown. In addition an assemblage of artist's tools and a printing press will be displayed.

When laid end-to-end, the illustrations complete a breathtaking 415 inch long panorama detailing the effects of a passing thunderstorm on a typical farm community one summer's afternoon.

Geisert grew up in Los Angeles, California, and claims not to have seen a pig until he was an adult. Trained as a sculptor in college, Geisert learned to etch at the Otis Art Institute in Los Angeles. He has authored two dozen picture books, three of which have been named "best illustrated books" by The New York Times Book Review.

From Pencil to Printed Page: Arthur Geisert's Thunderstorm will be on view June 14 through September 14, 2014 in the ground floor Orientation Gallery.