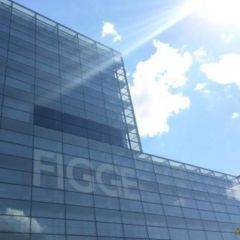 PRESS
MVQG: Encore Exhibition
January 29, 2014
---
(January 29, 2014) – For the second year in a row, the Mississippi Valley Quilters Guild (MVQG) is partnering with the Figge Art Museum for an exhibition of quilts that will be on display in the lobby. MVQG: Encore will begin Tuesday, February 4 and run through Sunday, February 9.

The exhibition features a selection of quilts by MVQG members and showcases the talent and remarkable skills of these area quilters. Last year's show was held in conjunction with Quilts: Masterworks from the American Folk Art Museum. This year it will be the only quilt-themed exhibition on view.

"It's a win, win," according to Director of Education Melissa Mohr. "The Figge experienced an increase in attendance during last year's MVQG exhibition, which demonstrates how much this community supports quilting as an art form, and we're glad we can continue to celebrate area talent in this way. Doing this exhibition every year in the Lobby is a good way for us to stay connected with the quilting community, especially during years when we don't have a large quilt exhibition on display."

In conjunction with MVQG: Encore, the Figge will conduct a "People's Choice" competition, in which visitors are welcome to vote for their favorite quilt. Voting will occur onsite until 6 p.m. on Thursday, February 6. Expressions in Threads will be providing prizes for the winners. Winners will be announced that evening before an Art-Quilting Talk scheduled for 7 p.m. A quilt raffle will also be taking place throughout the week and quilt appraisals will be available by appointment only from 9 a.m.-5 p.m. Thursday, February 6.

The exhibition is free with paid admission or membership and free after 5 p.m. on Thursday, February 6.


Companion Programming:

Thursday, February 6
9 a.m.-5 p.m. Quilt Appraisals (appointment required)*
Janette Dwyer, professional quilt appraiser and lecturer, will be available all day Thursday to perform quilt appraisals in the Dining Room. Contact Heather at haaronson@figgeartmuseum.org or call 563.345.6630 to schedule an appointment.

Thursday, February 6
7 p.m. Art-Quilting Talk
Art quilters Rosalie Baker and Colleen Curry will present two stylistic perspectives on art-quilting in the Auditorium. Curry will focus on new quilting techniques, while Baker will demonstrate the process she uses when creating her award-winning pictorial quilts. Both speakers are members of Professional Art Quilt Alliance (PAQA).