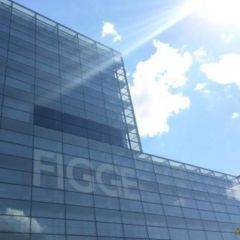 PRESS
Portrait of Maquoketa
September 21, 2016
---
(September 21, 2016) – Artist Rose Frantzen's Portrait of Maquoketa will be on view at the Figge Art Museum for the first time since it was acquired for the permanent collection beginning Saturday, October 1.

The exhibition is a multi-panel artwork that includes 180 12x12" oil portraits of people from Maquoketa, Iowa, as well as a 315 square foot landscape view of Maquoketa painted on 34 vertical panels ranging in length from four to ten feet and suspended from the ceiling. The panels are arranged in such a way that when a visitor sits at one end of the installation, all of the panels come together and align as one unified view of Maquoketa as seen from the hills outside of town. The other sides of the landscape panels display all 180 portraits. An audio element by the artist's brother, John Frantzen, completes the scene.

The project dates back to 2006, when the Frantzen invited townspeople to sit and have their portraits painted in a public studio she set up in a downtown storefront. Over the course of several months, her subjects ranged in age from a few weeks to over 90 years. The portraits were exhibited at the National Portrait Gallery in Washington D.C., prior to creation of the landscape element.

Created with an initial grant from the Iowa Arts Council, the work was acquired by the Figge Art Museum for its permanent collection in 2013, thanks to the generous support of multiple donors.

The exhibition will be accompanied by three of Frantzens's early sketches for the landscape view as well as four recent large scale oil paintings from important local collections.

A free public reception will take place on Sunday, October 3 from 2-4 p.m. in the Figge Art Museum's Grand Lobby. Visitors can meet the artist and enjoy light refreshments and a cash bar.

The exhibition will be on view through February 12, 2017 and is sponsored by the John Deere Foundation, Cottingham & Butler, Andy and Debi Butler and Ohnward Bancshares, Inc.


Companion Events:
Opening Reception & Gallery Talk
2-4 p.m. Sunday, October 2
Free admission
Meet artist Rose Frantzen and her husband Chuck Morris, who was instrumental in planning the layout and logistics of the piece, at an opening reception for the exhibition.

Curator Talk: Brandon Brame Fortune
7 p.m. Thursday, October 20
Free admission
Brandon Brame Fortune is chief curator and curator of painting and sculpture at the National Portrait Gallery where she has worked since 1987. She will be exploring the portraiture of artist Rose Frantzen.

Exhibition Tours
Free with membership or paid admission
1:30 p.m. Sunday, October 9, November 20
1:30 p.m. Saturday, October 29, November 19

Free Family Day
Saturday, December 10
10 a.m.-1 p.m. Scheduled Activities
Enjoy free admission all day, with special activities relating to current exhibitions.