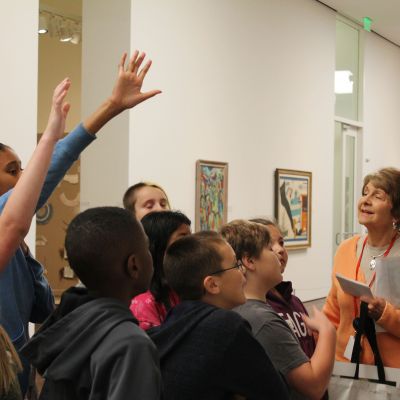 Tours
Study Tours for K-12 Students
---
Attention teachers! Figge study trips are a great way to enhance your classroom curriculum. Our docent-guided tours help your students build vocabulary and develop critical thinking skills, while introducing students to the visual arts. Complement your tour with sketching in the galleries or a writing assignment.
Reservations are required and can be arranged with Heather Aaronson at 563.345.6630.
Tours can be scheduled Tuesday-Friday 9:00 am - 4:30 pm.
Group size: minimum of 15 students; maximum 30-150 (depending on tour)
Length of tour:
Pre-school-kindergarten - 30 minutes
Grades 1-3 - 40 minutes
Grades 4-6 - 60 minutes
Grades 7-12 - 75 minutes
Optional art studio component: art activities require 45 minutes; there is an additional fee for including an art activity
Fees:
Gallery tours - $3 per student;
Look & Do tours - $5 per student (includes an art activity).
No charge for teachers and adult chaperones.
Download information to help you plan your tour.
Learn more about our most popular tours.
Each Figge Art Museum Docent undergoes training as part of the Docent Program, which is graciously supported by the Prichard Family Charitable Trust