Figge Membership
Benefits of Membership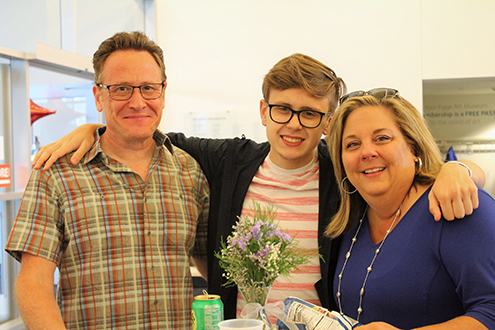 Unlimited, free admission to the museum
Special invitations to members-only events and exhibition previews
10% discount in the Figge Café • 10% discount in the Museum Store
Discounts on studio classes and workshops
Complimentary subscription to the Views from the Figge newsletter
Opportunities to travel with the Figge Art Museum
Standard Membership Levels
Educator $40 (Admission for one)
Senior $40 (Admission for one, age 60+)
Student $40 (Admission for one, school ID required)
Individual $50 (Admission for one adult, age 18+)
Family $75 (Up to two heads of household and dependent children under the age of 18)
Grandparent $75 (Up to two grandparents and grandchildren under the age of 18)
Donor Membership Levels
Benefactor $150+
Investor $250+
Steward $500+
Artist $1250+
Patron $2500+
Ambassador $5000+
Advocate $7500+
Philanthropist $10000+
Download a membership brochure with additional information.
North American Reciprocal Membership Agreement (NARM)
Did you know that if you make a membership gift of $150 or more to the Figge you get free access to hundreds of museums across country? Because the Figge is member of NARM, members are eligible for membership benefits, including free admission and store discounts, at other participating museums.
Help Grow the Museum. Be A Donor.
Figge Art Museum Annual Fund
Membership levels at the $150 Benefactor level and above support the museum with a portion of their donation benefiting exhibitions and programming through the annual fund. Benefactor level donors enjoy event MORE benefits including:
Reciprocal benefits to more than 1,000 museums and institutions through the North American Reciprocal Museum (NARM) Association.
Membership in the Friend of the Figge organization
Invitations to exclusive private events such as parties, brunches and meet-and-greet with artists.
Explore the world through art! Join and support our mission to bring art and people together-consider an increase in your gift TODAY!