Join the Figge Art Museum today!
Make an additional contribution in support of the Figge Art Museum.
Purchase a Membership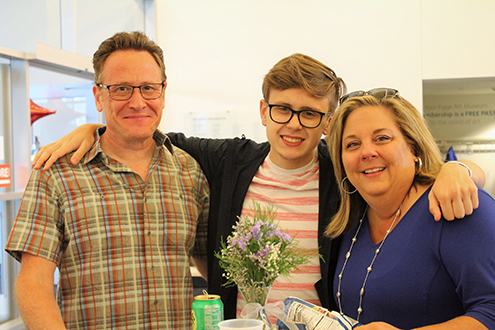 What a wonderful time to become a member and supporter of the Figge! Won't you please consider joining us? Your basic or donor level membership of $40, $50 or $75 earns valuable benefits and helps us fulfill our mission to "bring art and people together." Contact Tessa Pozzi at tpozzi@figgeartmuseum.org or call 563.345.6638 with questions.
All levels of membership enjoy these benefits:
Unlimited, free admission to the museum
Special invitations to members-only events and exhibition previews
10% discount in the Figge Café • 10% discount in the Museum Store
Discounts on studio classes and workshops
Complimentary subscription to the Views from the Figge newsletter
Opportunities to travel with the Figge Art Museum
Standard Membership Levels
Educator $40 (Admission for one)
Senior $40 (Admission for one, age 60+)
Student $40 (Admission for one, school ID required)
Individual $50 (Admission for one adult, age 18+)
Family $75 (Up to two heads of household and dependent children under the age of 18)
Grandparent $75 (Up to two grandparents and grandchildren under the age of 18)
Donor Membership Levels
Benefactor $150+
Investor $250+
Steward $500+
Artist $1250+
Patron $2500+
Ambassador $5000+
Advocate $7500+
Philanthropist $10000+
Download a membership brochure with additional information.
Instructions for downloading your mobile membership card.
North American Reciprocal Membership Agreement (NARM)
Did you know that if you make a membership gift of $150 or more to the Figge you get free access to hundreds of museums across country? Because the Figge is member of NARM, members are eligible for membership benefits, including free admission and store discounts, at other participating museums.
J 'adore the Figge!
Figge Art Museum Annual Fund 2019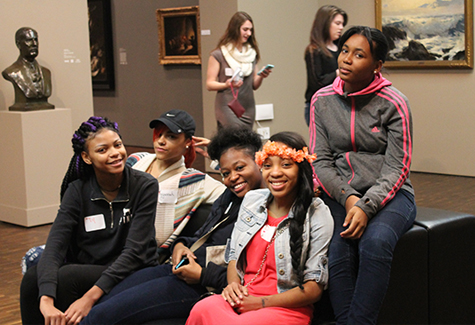 C'est magnifique! With our first-ever exhibition funded by donors to the Major Exhibitions Endowment, thousands of additional residents and visitors from all over our region are traveling to experience French Moderns: Monet to Matisse, 1850-1950 organized by the Brooklyn Museum. If you haven't yet seen the current exhibitions...ne vous tardez pa!
Thanks to the hard work of our staff, hundreds of volunteers, and our donors, your art museum achieved another successful year. Total visitors topped 105,000. Our education staff delivered art programs to over 30,000 school children in their classrooms in 61 schools in Iowa and Illinois. In addition, over 5,000 students from 115 schools expereienced art firsthand at the museum. For some students, this is the only art education they receive.
Your generous support as a member, or gift to the annual fund includes your membership for the year. It provides you with unlimited access to all the exhibition and special programs, and discounts in the Museum Store and Figge Cafe. At the Benefactor level of $150 or above, you will also be part of the Friends of the Figge and receive reciprocal benefits at more than 1,000 partner museums throughout North America.
French Moderns documents the dramatic transition in art from the traditions of the 19th century to the innovations of the 20th century. The Figge Art Museum is also moving into an exciting future - we hope you will add your support and join us!
Merci Beaucoup!