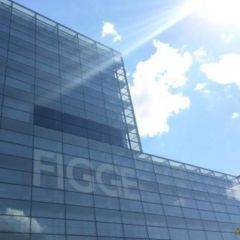 PRESS
2016 Young Artists at the Figge
February 17, 2016
---
(February 17, 2016) – Elementary art students from seven Quad-City area school districts will have their artwork featured at the Figge Art Museum for the annual Young Artists at the Figge exhibition opening Saturday.

Featured schools include North Scott, Geneseo, Moline, Muscatine, Davenport, Bettendorf and Pleasant Valley. Each school district has their own selection process to choose the top works of art to represent their district in this museum-school partnership.

In total, nearly 500 students will have their artwork on display in the Mary Waterman Gildehaus Community Gallery from February 20-May 22.

"Most children don't have an opportunity to display their art on the walls of a museum," said Director of Education Melissa Mohr, "and that's something we think is an important experience for Quad Cities students to have here at the Figge. Hopefully the students will see their artworks and become even more confident in the talents they have as young artists."

Each school will have their own recognition day honoring the participating young artists. Thanks to museum and donor support, admission will be free for all recognition days.

North Scott Schools
February 20-28
Recognition Ceremony 12:30 p.m. Sunday, February 28
Sponsored by Delia and Dave Meier

Geneseo Schools
March 5-13
Recognition Ceremony 12:30 p.m. Sunday, March 6

Moline Schools
March 19-27
Recognition Ceremony 12:30 p.m. Sunday, March 20
Sponsored by Peter and Kim Benson, John and Diane Slover, Tom and Brooke Terronez

Muscatine Schools
April 2-10
Recognition Ceremony 12:30 p.m. Sunday, April 10

Davenport Schools
April 16-24
Recognition Ceremony 12:30 p.m. Sunday, April 24
Sponsored by The Horan Family

Bettendorf Schools
April 30-May 8
Recognition Ceremony 12:30 p.m. Sunday, May 1

Pleasant Valley Schools
May 14-22
Recognition Ceremony 12:30 p.m. Sunday, May 15

STAY and PLAY!
February 28, March 6, March 20, April 10, April 24, May 1, May 15
2-2:30 p.m. in Studio 4
Join us for two-minute LEGO Challenge build sessions after each Recognition Ceremony.

The Young Artists at the Figge exhibition is sponsored in part by the Brand Boeshaar Foundation Fund and the Hubbell-Waterman Foundation Fund and will be on display through May 22, 2016.

About the Figge Art Museum
The Figge Art Museum is located on the riverfront in downtown Davenport at 225 West Second Street. Hours are from 10 a.m. to 5 p.m., Tuesday through Saturday and Sundays noon to 5 p.m. Thursdays the museum is open until 9 p.m. Admission to the museum and tour is $7. Admission is always free to Figge members and institutional members, and free to all on Thursday evenings from 5 p.m. to 9 p.m. The Figge Café is open 11 a.m.-2 p.m. Tuesday-Friday and Thursday evenings from 4-7 p.m. To contact the museum, please call 563.326.7804, or visit www.figgeartmuseum.org.