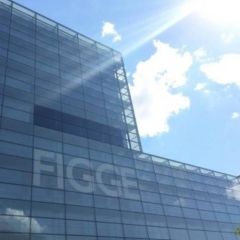 PRESS RELEASE
41st Rock Island Art Guild Fine Arts Exhibition Winners
April 2, 2020
---
PRESS RELEASE
FOR IMMEDIATE RELEASE
41st Rock Island Art Guild Fine Arts Exhibition Winners
Davenport, Iowa (April 2, 2020) – The Figge Art Museum, although temporarily closed to the public due to COVID-19, is pleased to announce the Rock Island Art Guild Fine Arts Exhibition winners.
The exhibition, sponsored by IH Mississippi Valley Credit Union and the Rock Island Art Guild, opened on January 18 in the museum's fourth-floor gallery. The exhibition includes works by sixty-three artists working in a variety of mediums who live within a 150-mile radius of the Quad Cities region. Candace Moeller, independent curator and associate director of Cristin Tierney Gallery, New York, NY, acted as this year's juror, selecting the works in the exhibition as well as the award winners.
Guests who visited the exhibition prior to the museum's temporary closure cast over 700 votes in order to select this year's "People's Choice" and" Children's Choice" award winners.
The complete list of 2020 winners are:
First Place $1,000
Kaitlin Walsh, The Temporal Bone, 2019, Oil on canvas
Second Place $500
Michael Wilcox, Fifty Foot Falls at Supai Arizona, 2015, Digital print


Third Place Founders Award in honor of Jean Welch Walgren $300
Gloria Burlingame, Reflections, 2019, Oil pastel on board


Sally MacMillan Watercolor Award $500
Linda Buechting, Sunday Donuts, 2019, Watercolor on paper


Sculpture Award In Memory of Zeivel Harris $500
William Close, Hurry Sally You're Late For School, 2019, Wood


Honorable Mention Awards $100
Gayle Lehmkuhl, View from the Mound, 2019, Oil on canvas


People's Choice Award
Tom Hempel, Tranquility, 2019, Watercolor on paper


Children's Choice Award
Samuel Seigel, Orchid, 2019, Mixed media
The 41st Rock Island Art Guild Fine Arts Exhibition has been extended through May 17, 2020. Please visit the Figge's website and follow the museum on social media for continued updates as well as virtual museum offerings.
About the Rock Island Art Guild:
The Rock Island Art Guild is a volunteer-run organization founded in 1955 which promotes and fosters the appreciation of the visual arts in the Quad Cities.
About the Figge Art Museum:
The Figge Art Museum is dedicated to bringing art and people together. Located on the Mississippi River in downtown Davenport at 225 West Second Street, the Figge is the premier art exhibition and education facility between Chicago and Des Moines. Its landmark glass building, designed by British architect David Chipperfield, is home to one of the Midwest's finest art collections and hosts world-class traveling exhibitions, art classes, lectures, and special events that attract visitors of all ages. The museum is temporarily closed due to COVID-19. Normal hours are from 10 a.m. to 5 p.m., Tuesday through Saturday and Sunday from noon to 5 p.m. On Thursdays, the museum is open until 9 p.m. Admission to the museum and tour is $10 for adults, $6 for seniors and students with ID and $4 children ages 4-12. Admission is free to Figge members and institutional members and always free to all on Thursday evenings from 5 p.m. to 9 p.m. The Figge Café is currently closed but is typically open from 11 a.m.-2 p.m. Tuesday-Friday. To contact the museum, please call 563.326.7804, or visit www.figgeartmuseum.org.
–END–