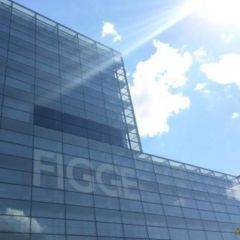 PRESS
A New Deal for Illinois: The Federal Art Project Collection of Western Illinois University
September 11, 2013
---
Davenport, Iowa (September 11, 2013) – This Saturday a brand-new exhibition will open at the Figge Art Museum. A New Deal for Illinois: The Federal Art Project Collection of Western Illinois University will be on view in the fourth floor gallery through January 5, 2014.

The exhibition is a selection of works that examine New Deal art in the regional context of Chicago in the 1930s and in relation to the institutional history of Western Illinois University. It will feature works by such notable artists as Archibald J. Motley, Jr., Gertrude Abercrombie, Aaron Bohrod and Romolo Roberti.

Although the Great Depression was especially challenging for educational institutions, Western Illinois University received substantial funding from New Deal agencies to advance the college through campus building projects and student work study programs. These funds were obtained through the dedicated and skilled efforts of the college's influential president, Walter P. Morgan.
Beginning in 1934, a unique federal arts program also provided support for the college to acquire New Deal art to adorn classrooms, hallways and other public spaces on campus.
A New Deal for Illinois: The Federal Art Project Collection of Western Illinois University was organized by the Western Illinois University Art Gallery. The exhibition is curated by Dr. Gregory Gilbert, associate professor of art history at Knox College and co-author of Harry Gottlieb: The Silkscreen and Social Concern in the WPA Era.
Companion Programming
Curator Lecture
7 p.m. Thursday, September 19
FREE
Curator Greg Gilbert Ph.D., associate professor and director of the art history program at Knox College, will speak about the exhibition he curated from the Western Illinois University's collection of WPA art.

About the Figge Art Museum
The Figge Art Museum is located on the riverfront in downtown Davenport at 225 West Second Street. Hours are from 10 a.m. to 5 p.m., Tuesday through Saturday and Sundays 12-5 p.m. Thursdays the museum is open until 9 p.m. Admission to the museum and tour is $7. Admission is free to Figge members and institutional members and free to all on Thursday evenings from 5 p.m. – 9 p.m.. To contact the museum, please call 563.326.7804, or visit www.figgeartmuseum.org.