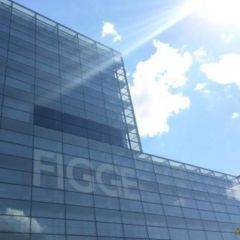 PRESS
Alison Saar: STILL... Opens Saturday
February 7, 2013
---
The Figge Art Museum presents the work of Los Angeles-based sculptor Alison Saar in the exhibition titled Alison Saar: STILL…which will be on display through April 14 in the third floor gallery.

Saar, who is receiving international attention, combines bold figurative sculptures with found and repurposed objects such as tree branches, old lumber, pots and pans and boxing gloves to create moving, personal statements. The works in the exhibition play on the many meanings of the word "Still"—to quiet or appease, to persevere, an apparatus for transforming liquids, or lifeless (as in still born)—to explore issues of aging, gender and racial identity, and our progress through life.

Informed by artistic traditions from the Americas to Africa and beyond, and by her mixed racial upbringing, Alison Saar fuses her paradoxical responses to the black-and-white delineations of political and social forces into a powerful, visual, and kinesthetic tension. She uses the everyday experience, history and associations of her materials, African art and ritual, Greek mythology, and the stark sculptural tradition of German Expressionism to infuse her work with a primal intensity that challenges cultural and historic references and stereotypes.

Museum visitors will have the opportunity to meet Alison Saar on Saturday at 2:30 p.m. for a discussion about her exhibition in the John Deere auditorium followed by a catalogue signing in the Museum Store. The talk will be free with membership or paid admission.

Saar received her BA from Scripps College and her MFA from Otis Art Institute, Los Angeles. Her work is in the collections of the Museum of Modern Art and the Metropolitan Museum of Art, the Walker Art Center in Minneapolis, the High Museum in Atlanta, and many others. She has received fellowships from the Guggenheim Foundation, the National Endowment for the Arts, and Anonymous Was a Woman, and she was recently named a USA Fellow. The exhibition is organized by the Ben Maltz Gallery at Otis College of Art and Design in Los Angeles, and is curated by Gallery Director Meg Linton. The catalog and exhibition are sponsored by the Contemporary Collectors, Orange County, and the presentation of the exhibition at the Figge is sponsored by Iowa American Water.


Companion Programs

Members Only Preview Reception
5:30 p.m. Friday, February 8
Meet Alison Saar and exhibition curator Meg Linton

Alison Saar Talk
2:30 p.m. Saturday, February 9
Alison Saar discusses her works in the John Deere Auditorium. Join her in the Museum Store immediately following where she will sign copies of the exhibition catalogue for STILL…

Artists Talk
7 p.m. Thursday, March 14 and 28
Speakers: Zaiga Thorson, Terry Rathje, Steve Banks and Skip Willits
Experience the exhibition Alison Saar: STILL… through the eyes of four local artists as they each discuss the artworks from their own perspectives.

Docent-led Tours
1:30 p.m. Sundays in March
6 p.m. Thursday March 14 and 15
6 p.m. Thursday, April 11

All programs are free with membership or paid admission.