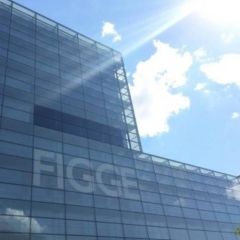 PRESS RELEASE
Alois Kronschlaeger: Polychromatic Contemplations
June 7, 2018
---
The Figge Art Museum is pleased to announce a new artist installation opening Saturday, June 9. Alois Kronschlaeger: Polychromatic Contemplations will be on view in the third-floor gallery.

In his inaugural Figge exhibition, Austrian born, New York based artist Alois Kronschlaeger has created a site-specific installation of geometric sculptures designed to echo the historic division of the Midwestern landscape into the mile-wide squares that form the boundaries of its towns, farms and homesteads.

In Polychromatic Contemplations, Kronschlaeger's sculptures combine weaving, assemblage and painting in an array intricate sculptures whose interior shapes and colors change as you move between and around them. Responding to the Figge building's design, the installation explores the artist's fascination with architectural forms and their relationship to the surrounding landscape.

Polychromatic Contemplations will be on view through September 16, 2018.

Alois Kronschlaeger (b. 1966, Grieskirchen, Austria) is best known for his site-specific installations and sculptures, which demonstrate a preoccupation with environment and light, and his interest in exploring time and space via geometric structures. His work has been exhibited at such international institutions and festivals as The Bruce Museum of Arts and Sciences (CT), Yuan Art Museum (Beijing), MOCA Tucson (AZ), MAC Lima (Peru), and Islamic Arts Festival (Sharjah, Dubai), among others. Since 2011, the artist has produced five site-specific public installations in Grand Rapids and Flint, Michigan with SiTE:LAB. His most recent gallery exhibition opened in Buenos Aires, Argentina in May.

Companion Programming:
Alois Kronschlaeger Artist Talk
Thursday, June 14
4 p.m. Happy Hour Menu & Cash Bar
6:30 p.m. Artist Talk
Artist Alois Kronschlaeger will introduce his exhibition and speak about his creative process when developing installation art.

Collection and Exhibition Tours
1:30 p.m. Saturdays: July 7, 14, 21, August 4, 11
1:30 p.m. Sundays: July 8, 15, 22, August 5, 12

Free Family Day
Saturday, August 4
Free Admission all day
Scheduled Activities 10 a.m.–1 p.m.

About the Figge Art Museum:
The Figge Art Museum is located on the Mississippi River in downtown Davenport at 225 West Second Street. Hours are from 10 a.m. to 5 p.m., Tuesday through Saturday and Sundays noon to 5 p.m. Thursdays the museum is open until 9 p.m. Admission to the museum and tour is $7 for adults, $6 for seniors and students with ID and $4 children ages 4-12. Admission is free to Figge members and institutional members, and free to all on Thursday evenings from 5 p.m. to 9 p.m. with a Happy Hour Menu starting at 4 p.m. each Thursday. The Figge Café is open 11 a.m.-2 p.m. Tuesday-Friday. To contact the museum, please call 563.326.7804, or visit www.figgeartmuseum.org.