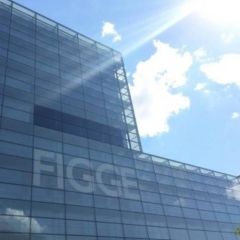 PRESS RELEASE
Ansel Adams, The Sierra Club, and the Making of a Landscape Icon
June 22, 2023
---
PRESS RELEASE
FOR IMMEDIATE RELEASE
Davenport, Iowa (June 22, 2023) —The stunning beauty and fragile lands of America's western landscape captured by renowned photographer Ansel Adams is now on view at the Figge Art Museum.
Ansel Adams, The Sierra Club, and the Making of a Landscape Icon features a suite of sixteen images taken by Adams from the early 1930s to the 1950s titled: Portfolio Three: Yosemite Valley. Arguably one of the most famous and influential American landscape photographers of the twentieth century, Adams' impressive black and white photographs serve as a reminder of the simple beauty of the untouched parts of the American west.
Adams, a life-long advocate for environmental conservation, was just 17 years old when he became involved with the Sierra Club whose initial mission was the preservation and conservation of California's Sierra Nevada. He served as the Club's official trip photographer at age 26 and accompanied large groups of members on month long excursions in Yosemite—the Club's home—and in the surrounding Sierra Nevada. Portfolios of Adams's images were produced and sold to promote the Club's conservation efforts.
"Portfolio Three: Yosemite Valley captures the timeless beauty and grandeur of Yosemite, as seen through the lens of Ansel Adams. This exhibition highlights his meticulous composition and masterful use of light and demonstrates the profound impact Adams had on photography and conservation," said Figge Executive Director and CEO Michelle Hargrave. "As we celebrate his remarkable contributions, we hope that his artistic vision, craftsmanship, and deep reverence for the natural world will encourage visitors to contemplate, appreciate, and protect the sacred landscapes that inspire our souls."
As a Native Californian, Adams made his first long trip into the Yosemite wilderness when he was 18. He spent much of his time exploring and familiarizing himself with the national park. From the high peaks to the small snow-covered branches he encountered, these trips served as the inspiration for many of Adams' famous photographs including one of his most recognized works Clearing Winter Storm, which will be on view.
"The distinguishing factor in Adams work was his intimate familiarity with his subject. The countless hours he spent hiking and photographing the valley and surrounding peaks gave him invaluable perspective not only on Yosemite, but on the natural environment more broadly," said Figge Director of Collections and Exhibitions Andrew Wallace. "His strong connection to the area made his photographs uniquely iconic and provided a reminder of why such landscapes need to be protected."
Over the past half century there has been a steady increase of visitors to Yosemite that has taxed the park's resources. Now the Sierra Club, and members of the Mono Lake Paiute, and Shoshone communities, are working to provide alternatives to the National Park Service's solution of building more infrastructure. In this effort, photographs by Adams as an early platinum print by his predecessor, William Dassonville, and more recently, colorful tourist images by Roger Minick serve as reminders of Yosemite's iconic beauty and the perils it continues to face.
Ansel Adams was awarded the Presidential Medal of Freedom in 1980 for his work with the Sierra Club. His life-long dedication to preserving some of the world's most pristine natural areas earned him this prestigious honor.
Ansel Adams, The Sierra Club, and the Making of a Landscape Icon is made possible by supporting sponsors Eddie Brian and Caroline Pasierb, contributing sponsors Hunt and Diane Harris, Sears Seating, and Carolyn Levine & Leonard Kallio Trust and media sponsor Quad Cities Regional Business Journal. The exhibition will be on view in the Figge's second-floor Katz Gallery through August 27, 2023.
Companion Events:
The Katz Gallery: Celebrate the Exhibitions of Ansel Adams & Johnny Brian
5 p.m. Member Reception | 6:30 p.m. Public Program
Thursday, July 20, 6:30 pm.
Celebrate the opening of two new exhibitions - Ansel Adams, The Seirra Club, and the Making of a Landscape Icon, and Johnny Brian's Iowa Night Skies, featuring special guest and Iowa City artist Johnny Brian. Figge members are invited to join us for the opening reception starting at 5 p.m. Public program begins at 6:30 p.m. Free admission and programs for Thursdays at the Figge sponsored by Chris and Mary Rayburn.
Free Family Day
Sunday, August 6, 12-3 p.m.
Celebrate with this Free Family Day, featuring summer exhibitions. Activities from 12-3 p.m. including artmaking, demonstrations, and docent interactions. Admission is FREE all day! Sponsored by: Northwestern Mutual, Kevin Ryan CLU, ChFC
About the Figge Art Museum:
The Figge Art Museum is dedicated to bringing art and people together. Located on the Mississippi River in downtown Davenport at 225 West Second Street, the Figge is the premier art exhibition and education facility between Chicago and Des Moines. Its landmark glass building, designed by British architect David Chipperfield, is home to one of the Midwest's finest art collections and presents world-class exhibitions, art classes, lectures, and special events that attract visitors of all ages. Museum hours are 10 a.m.­­-5 p.m. Tuesday, Wednesday, Friday, and Saturday; 10 a.m.-8 p.m. on Thursdays; and 12-5 p.m. on Sundays. Reservations are not required, but can be made at www.figgeartmuseum.org or by calling 563-345-6632. Admission to the museum is $10 for adults, $6 for seniors and students with ID and $4 children ages 4-12. Admission is free to Figge members and institutional members and to all on Thursday evenings. You can become a member for as little as $50 by visiting the Figge website. To contact the museum, please call 563.326.7804, or visit www.figgeartmuseum.org.
-END-