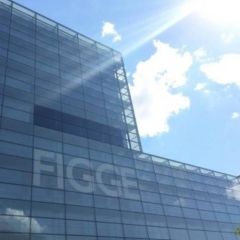 News
Appointment of New Director
June 1, 2012
---
Davenport, IA (June 2012) The Board of Trustees of the Figge Art Museum is pleased to announce the appointment Tim Schiffer as the Figge's new Executive Director. He begins his new role August 1, 2012. The selection of Mr. Schiffer to head the museum is the culmination of a national search involving the review of hundreds of candidates, and it reflects the Figge's desire to hire an accomplished leader with a passion and enthusiasm for art and an engaging personality.

"We're really excited that Tim is joining the Figge team. He has an exceptional track record of success, a unique blend of both management skills and artistic perception and has many wonderful and exciting ideas to lead the Figge Art Museum to new highs. Tim and his wife are very talented people. Both the Figge and the Quad Cities will benefit greatly from this addition to our community," said Andy Butler, President of the Figge Board of Trustees.

Mr. Schiffer comes to the Figge from the Museum of Ventura County, a regional history and art museum in Ventura, California, where he has been Executive Director since 1999. In that time he has led a major expansion of the museum's original facility and the creation of a new satellite agriculture museum, and has overseen significant growth in the museum's programs, membership and community support. Prior to becoming Executive Director, he was curator at the Museum for six years, planning dozens of exhibitions and leading the redesign of its long-term history exhibition, funded through grants from the National Endowment for the Humanities.

Mr. Schiffer received his B.A. in Fine Art from Yale and his M.F.A. in Painting from the University of California, Santa Barbara, where he was a lecturer in art and gallery director at the College of Creative Studies for eight years. He also managed the west coast studio of Kenneth Noland, an internationally known abstract painter. He has served on the boards of the Ventura Visitors and Convention Bureau, Ganna Walska Lotusland, and the Santa Barbara Contemporary Arts Forum, and has been active in numerous other community groups. In 2011 he received the City of Ventura's Mayor's Arts Award as Arts Leader of the year. Mr. Schiffer is married to Pamela Kendall Schiffer, a professional artist, and they have three grown daughters.

"When we visited the Figge for the first time, Pam and I were amazed by the building and by the collection, and we liked the people we met—they were all so enthusiastic about the museum. I look forward to working with the board and staff and the community to help the Figge achieve its incredible potential. It is a real honor to be chosen for this position," said Mr. Schiffer.