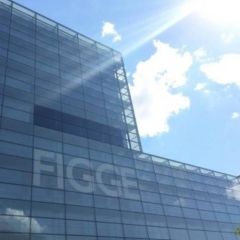 PRESS RELEASE
Art Off the Wall at the Figge Art Museum
November 7, 2023
---
PRESS RELEASE
FOR IMMEDIATE RELEASE
Art Off the Wall at the Figge Art Museum
Davenport, Iowa (November 7, 2023) — Start your journey into the world of art collection or expand your existing collection at the annual Art Off the Wall fundraiser at the Figge Art Museum on Sunday, November 12 from 11 a.m.-1:30 p.m.
Join us at this inclusive art event where everyone is welcome—from seasoned collectors to those just beginning their journey into art appreciation. Bid on over 100 carefully selected pieces of art in a variety of mediums while indulging in delightful brunch bites and a complimentary mimosa bar. With starting bids as low as $50, this is a perfect opportunity for everyone to take part in the thrill of an art auction and walk away with an affordable, one-of-a-kind art treasure that you'll enjoy for years to come.
More than a quarter of the works featured at this year's Art Off the Wall have been donated by local artists, making it a wonderful opportunity to celebrate and explore the creativity of our Quad Cities community. With pieces sourced from both private regional collections and the studios of local creators, there's a story behind each work waiting to speak to your artistic soul. From charming paintings to intricate ceramics, timeless antiques to captivating photography, and exquisite sculptures to elegant jewelry, you're sure to find something to spark your 2024 art aesthetic.
"Art Off the Wall provides a unique and affordable opportunity for anyone who loves art to acquire exciting pieces, but it also plays a vital role in supporting the Figge's mission of bringing art and people together," said Figge Director of Development Patrick Downing. "We are excited to see our community come together to celebrate the beauty of art and build a stronger connection to our museum."
For those who are unable to attend in person, there is an exciting online raffle opportunity. Purchase raffle tickets to win the stunning vase "Textured Tall Orange" by Quad Cities artist Steve Sinner, valued at $525. Raffle tickets are $10 for a single ticket, $25 for three tickets and $40 for five tickets. All proceeds benefit the Figge.
Don't miss the chance to experience the Art Off the Wall event. For more information and to purchase event and raffle tickets, visit www.figgeartmuseum.org.
About the Figge Art Museum:
The Figge Art Museum is dedicated to bringing art and people together. Located on the Mississippi River in downtown Davenport at 225 West Second Street, the Figge is the premier art exhibition and education facility between Chicago and Des Moines. Its landmark glass building, designed by British architect David Chipperfield, is home to one of the Midwest's finest art collections and presents world-class exhibitions, art classes, lectures, and special events that attract visitors of all ages. Museum hours are 10 a.m.-5 p.m. Tuesday, Wednesday, Friday, and Saturday; 10 a.m.-8 p.m. on Thursdays; and 12-5 p.m. on Sundays. Reservations are not required, but can be made at www.figgeartmuseum.org or by calling 563-345-6632. Admission to the museum is $10 for adults, $6 for seniors and students with ID and $4 children ages 4-12. Admission is free to Figge members and institutional members and to all on Thursday evenings. You can become a member for as little as $50 by visiting the Figge website. To contact the museum, please call 563.326.7804, or visit www.figgeartmuseum.org.
-END-