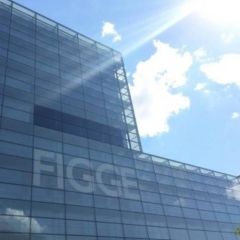 PRESS RELEASE
Captivating Haitian Work on View at Figge Art Museum Beginning Saturday
June 5, 2023
---
PRESS RELEASE
FOR IMMEDIATE RELEASE
Davenport, Iowa (Monday, June 5, 2023) — The Figge Art Museum is home to one of the largest collections of Haitian art outside of Haiti. An impressive installation from the Figge's permanent collection, Endless Flight by Haitian artist Edouard Duval-Carrié, will be on view in the fourth-floor gallery beginning Saturday. Endless Flight is a multi-part altarpiece created at the time of increased migration of Haitians to the United States. Arguably one of the masterpieces of the Figge's collection, the work represents the intersection of contemporary figurative painting and sculpture with the unique cultural traditions of Haiti.
The work casts central Vodou spirits, or lwa, as modern figures: a superhero, an exotic dancer and a soldier. The central wall of the altarpiece, echoing the architecture of a Catholic church, is accompanied by seven sculptural assemblages. These sculptures are in the form of ships and carts, and carry figures and symbols associated with Vodou spirits like Baron Samedi – the leader of the spirits of the dead, and Erzulie Dantor – the goddess of love, motherhood and vengeance. In Endless Flight, "The many figures in the boats symbolize floating islands and the idea of being uprooted," said artist Duval-Carrié. "The Caribbean is not stable, it moves." These vessels refer to the historical migration of colonists and enslaved Africans to Haiti as well as the modern migration of Haitians fleeing their country due to political turmoil and poverty.
"The Figge Art Museum is committed to showcasing the rich cultural heritage of Haiti which is exemplified in Endless Flight," said Figge Executive Director and CEO Michelle Hargrave. "The accompanying sculptural assemblages, symbolizing the historical and contemporary journeys of Haitians, evoke a powerful narrative of hope and struggle through Duval-Carrié's profound artistic vision."
Born in Haiti, Duval-Carrié moved to Puerto Rico as a child, when his parents fled the Duvalier regime. His paintings and sculptures explore the history of slavery, colonialism and migration in Haiti. He studied at Loyola College in Montréal and at the École Nationale Supérieure des Beaux Arts in Paris, and now lives and works in Miami. His first exhibition was held at the Centre d'Art in Port au Prince, which helped launch the careers of some of Haiti's most renowned painters and sculptors. His work has been featured in solo exhibitions worldwide, including at the Figge in 2005 and 2017. The Figge was the first museum to acquire his work, and his portrait of Dr. Walter Neiswanger, founder of the museum's Haitian collection, is on view in the museum.
"We are thrilled to once again share Duval-Carrié's installation, Endless Flight, with the community," said Figge Assistant Curator Vanessa Sage. "He draws on a deep knowledge of Haiti and his personal experiences to create powerful artwork that confronts misconceptions and offers new ways to engage with Haitian culture."
Endless Flight was acquired by the Figge with the generous assistance of multiple donors. Supporting sponsor for the exhibition is Brian and Diana Lovett and contributing sponsor is Carolyn Levine & Leonard Kallio Trust. The exhibition will be on view through September 17, 2023.
Companion Events:
Celebrating Haitian Art
Thursday, August 17
5 p.m. Member Reception | 6:30 p.m. Art Conversation
Join artist Edouard Duval- Carrié and Haitian art scholars as they discuss major collections that exist outside of Haiti and how making them accessible to artists and scholars in Haiti and throughout its diaspora are important to the preservation of Haitian culture. This program celebrates the exhibition, Endless Flight and the Haitian Crossroads program.
About the Figge Art Museum:
The Figge Art Museum is dedicated to bringing art and people together. Located on the Mississippi River in downtown Davenport at 225 West Second Street, the Figge is the premier art exhibition and education facility between Chicago and Des Moines. Its landmark glass building, designed by British architect David Chipperfield, is home to one of the Midwest's finest art collections and presents world-class exhibitions, art classes, lectures, and special events that attract visitors of all ages. Museum hours are 10 a.m.­­-5 p.m. Tuesday, Wednesday, Friday, and Saturday; 10 a.m.-8 p.m. on Thursdays; and 12-5 p.m. on Sundays. Reservations are not required, but can be made at www.figgeartmuseum.org or by calling 563-345-6632. Admission to the museum is $10 for adults, $6 for seniors and students with ID and $4 children ages 4-12. Admission is free to Figge members and institutional members and to all on Thursday evenings. You can become a member for as little as $50 by visiting the Figge website. To contact the museum, please call 563.326.7804, or visit www.figgeartmuseum.org.
-END-