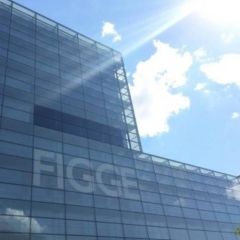 News
Crossing the Mississippi: The Quad Cities, the Railroad and Art
February 13, 2011
---
The arrival of the railroad in the mid-nineteenth century sparked a period of tremendous economic growth that transformed the social and physical landscape of the Quad Cities. Plans for a railroad connecting the Mississippi River to the Atlantic developed as early as 1828 but came to fruition only in 1851 when, under the direction of Henry Farnam and Joseph Sheffield, construction of the Chicago and Rock Island Railroad (CRI) began. Within three years and amidst great fanfare, the first train from Chicago reached Rock Island. Similar plans to introduce the railroad to Iowa were set into motion in 1853 when the Iowa legislature approved the charter for the Mississippi and Missouri Railroad (M & M). Two years later steam engines linked Davenport with Muscatine and Iowa City but when the M & M suffered the effects of the Civil War, they merged with the CRI in 1866 to form the Chicago, Rock Island and Pacific Railroad Company (CRI&P RR).
Building a bridge across the Mississippi to connect the Iowa and Illinois railroads however proved to be far more controversial. Steamboats had previously monopolized the transportation of goods across the country and the threat posed by the railroads prompted the steamboats to file multiple lawsuits. Despite this, work was begun in 1854 and the bridge completed by 1856. Stretching between Davenport and the Rock Island Arsenal Island, the bridge consisted of stone piers supporting five fixed wooden spans and a swing span that offered unobstructed passage to the steamboats. Additional support became necessary in 1858 to compensate for the weight of the locomotives and cars, but the improvements were not enough, and in 1866 the bridge spans had to be replaced with a more solid construction. Soon thereafter, the U.S. government decided to assume control over the entire island and the bridge had to be moved to a different location. The original bridge was removed and a new iron bridge anchored by piers of masonry was completed in 1872. Poor planning, however, demanded yet another new bridge to be built. This fourth and final bridge opened in 1895 and featured a double deck bridge that accommodated trains on the upper deck and vehicles on the lower one.
Collaborating Institutions: Rock Island Arsenal Museum, Richardson-Sloane Special Collections Center of the Davenport Public Library, and the Putnam Museum.

Through April 24, 2011
Learn more about Tracks: The Railroad in Photographs from the George Eastman House Collection.