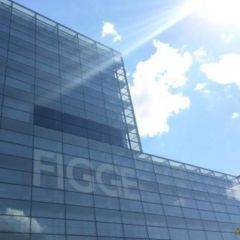 PRESS
David Plowden: An American Master Opens Saturday at the Figge Art Museum
June 20, 2016
---
Davenport, Iowa (June 20, 2016) – A new exhibition will open on Saturday in the third floor gallery at the Figge Art Museum. David Plowden: An American Master celebrates the photographer's recent gift to the museum of a selection of his key images made over the course of his more than 60 year career.

The exhibition will include more than 70 images that carefully follow Plowden's exploration of the medium's 20th century evolution, from a modern vision of the sublime to a postmodern obsession with an increasingly urbanized landscape. Even in the presence of suburban sprawl, the exhibition will display how Plowden manages to capture a kind of beauty in the landscape that the passerby might overlook.

The images exemplify Plowden's remarkable ability to direct the viewer's gaze to the beauty of the rural landscape, while his critical eye attends us to what we see more clearly: a voluptuous ocean of grain enveloping a subdivision; the Gothic intricacy of an old bridge span; a nearly empty motel parking lot amid nothing; a grand sprawl of trash and utility poles leading to the Statue of Liberty.
Plowden, 83, attended The Putney School in Vermont and graduated from Yale University in 1955. After working briefly for the Great Northern Railway, he began to pursue his career in photography and has documented a vanishing America during his career. Of his work he says. "I have been beset, with a sense of urgency to record those parts of our heritage which seem to be receding as quickly as the view from the rear of a speeding train. I fear that we are eradicating the evidence of our past accomplishments so quickly that in time we may well lose the sense of who we are."

David Plowden: An American Master is sponsored by Triumph Community Bank and will be on view through September 11, 2016. Museum admission is free through September 25, 2016 thanks to the generous support of The Bechtel Trusts and John Deere Classic.

Companion Events:
Opening Reception and Curator Talk
Thursday, June 30
5:30 p.m. Reception • 7 p.m. Curator Talk
Enjoy light refreshments and a cash bar with other Figge members, followed by introductory remarks and a gallery talk with Andrew Wallace, the exhibition's curator and Figge manager of collections and exhibitions.

Exhibition Tour
1:30 p.m. Sunday, July 10

Family Day
Saturday, July 16
10 a.m.-1 p.m. Scheduled Activities
Families and fans alike will dive into special activities throughout the museum.

Art History Class: Photography Series
1-3 p.m. Sundays, August 7-28
John Deere Auditorium
Each class will feature photography from a different angle as the instructors explore everything from the stunning photographs by David Plowden to the role of photojournalism in society today.

Photography Lecture
7 p.m. Thursday, August 18
Join Professor Michael Godsil for a lecture entitled "Landscape Photographs: Capturing a Spirit of Place." Godsil just completed his 30th year of teaching photography and digital photography in the Department of Art & Art History at Knox College.

About the Figge Art Museum:
The Figge Art Museum is located on the riverfront in downtown Davenport at 225 West Second Street. Hours are from 10 a.m. to 5 p.m., Tuesday through Saturday and Sundays noon to 5 p.m. Thursdays the museum is open until 9 p.m. Admission to the museum and tour is normally $7, but is free through September 25 thanks to The Bechtel Trusts and John Deere Classic. Admission is always free to Figge members and institutional members, and free to all on Thursday evenings from 5 p.m. to 9 p.m. The Figge Café is open 11 a.m.-2 p.m. Tuesday-Saturday. To contact the museum, please call 563.326.7804, or visit www.figgeartmuseum.org.