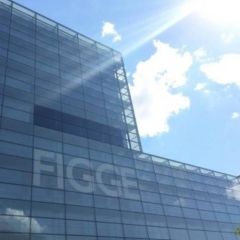 PRESS RELEASE
Day of the Dead: The Art of Remembrance Opens Saturday at the Figge Art Museum
October 3, 2019
---
Figge Art Museum
225 West Second Street
Davenport, IA 52801
t 563.326.7804
www.figgeartmuseum.org
Contact: Natalie Dunlop,
Marketing & Communications
t 563.345.6651
ndunlop@figgeartmuseum.org
PRESS RELEASE
FOR IMMEDIATE RELEASE
Day of the Dead: The Art of Remembrance Opening Saturday at the Figge Art Museum
Davenport, Iowa (September 19, 2019) – The Figge Art Museum's second-floor Mary Waterman Gildehaus Community Gallery will feature Day of the Dead: The Art of Remembrance beginning Saturday.
Day of the Dead is a traditional Mexican holiday, but what makes it so special and why is it taking on new meaning and proportion in the United States and beyond? This installation will explore those questions and how we celebrate and remember the lives of our lost loved ones through the collective traditions, art-making and storytelling that are integral parts of Dia de los Muertos.
Day of the Dead: The Art of Remembrance includes a traditional altar, cemetery, market and many Catrinas – an elegantly dressed female skeleton figure that serves as a symbol of Day of the Dead. Bilingual exhibition labels with Spanish translations provided by Hola America will be used throughout the exhibition. The Figge's Studio 1 hands-on space will allow visitors to create fantastic mythical creatures called alebrijes and decorate marigolds and butterflies in memory of lost loved ones to be displayed on the altar in the exhibition.
Day of the Dead: The Art of Remembrance is sponsored by MidAmerican Energy. The public is invited to participate in the exhibition by sharing their stories or images of their loved ones by emailing haaronson@figgeartmuseum.org.
Companion Programming:
Open House and Maker Session
Thursday, October 10
4 p.m. Happy hour menu / cash bar
5:30 p.m. Introduction and short film
6:30 p.m. Maker Session
Stop in to celebrate the opening of the Day of the Dead: The Art of Remembrance. See a short film about the holiday and learn how to make the iconic sugar skulls that will be used for the Family Fiesta on October 27 at the Figge.
Sponsored by River Cities' Reader
Dia De Los Muertos Family Fiesta
Noon-5 p.m. Sunday, October 27
Experience performances by Ballet Forlklorico and the Glenview Mariachi Band, authentic food, Catrinas in the galleries, a traditional altar, painted faces and a wealth of hands-on art activities. In partnership with LULAC, Hola America and Quad-City Times. Admission is FREE!
About the Figge Art Museum:
The Figge Art Museum is located on the Mississippi River in downtown Davenport at 225 West Second Street. Hours are from 10 a.m. to 5 p.m., Tuesday through Saturday and Sunday from noon to 5 p.m. Thursdays the museum is open until 9 p.m. Admission to the museum and tour is $10 for adults, $6 for seniors and students with ID and $4 children ages 4-12. Admission is free to Figge members and institutional members, and always free to all on Thursday evenings from 5 p.m. to 9 p.m. The Figge Café is open 11 a.m.-2 p.m. Tuesday-Friday. To contact the museum, please call 563.326.7804, or visit www.figgeartmuseum.org.
–END–