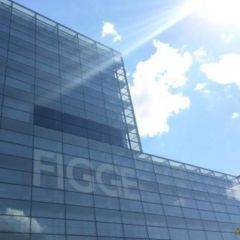 PRESS
Edouard Duval-Carrié: Endless Flight
September 11, 2017
---
(September 11, 2017) – The Figge Art Museum is home to one of the largest collections of Haitian Art in the United States. Opening Saturday is an exhibition by Haitian born artist Edouard Duval-Carrié titled: Endless Flight.
Endless Flight, acquired by the Figge through the generosity of Dr. Walter Neiswanger and multiple other donors, is a multipart altarpiece that combines Christian and Vodou religious imagery and allegorical paintings and sculptures to create an otherworldly environment. The piece was created at a time of increased migration to the United States by Haitians fleeing the political oppression and poverty in their homeland. The piece will be installed in the fourth-floor gallery with a selection of recent paintings by Duval-Carrié.

Currently residing in Miami, Florida, Duval-Carrié creates paintings and sculptures that explore the history of slavery, colonialism and migration epitomized by the Haitian people. His work has been featured in solo exhibitions worldwide, including at the Figge in 2005. The Figge was the first museum to acquire his work, and his portrait of Dr. Walter Neiswanger, founder of the museum's Haitian collection, is on view in the exhibition.

Endless Flight is arguably one of the masterpieces of the Figge's collection, and represents the intersection of contemporary figurative painting and sculpture with the unique cultural traditions of Haiti.

Sponsored by Brian and Diana Lovett, and Barbara Leidenfrost in memory of her husband, Oscar Leidenfrost, Endless Flight will be on view through February 4, 2017.

Companion Events:
Opening Reception and Artist Talk
Thursday, September 21
5:30 p.m. Opening Reception
7 p.m. Artist Talk
Free admission
Haitian artist Edouard Duval Carrié will introduce his exhibition Endless Flight and speak about the current state of Haitian art.

Free Family Day
10 a.m-1 p.m. Saturday
November 18
Free admission
Enjoy free admission all day, with special activities scheduled from 10 a.m.-1 p.m. Inspirations will be drawn from current exhibitions. Sponsored by the Quad-City Times

Guided Tours
1:30 p.m. Sunday, October 8 & December 10
1:30 p.m. Saturday, October 28 & December 9
Meet in the Museum Store.
Free with museum admission.

About the Figge Art Museum:
The Figge Art Museum is located on the riverfront in downtown Davenport at 225 West Second Street. Hours are from 10 a.m. to 5 p.m., Tuesday through Saturday and Sundays noon to 5 p.m. Thursdays the
museum is open until 9 p.m. Admission to the museum and tour is $7 for adults, $6 for seniors and
students with ID and $4 children ages 4-12. Admission is free to Figge members and institutional members, and free to all on Thursday evenings from 5 p.m. to 9 p.m. The Figge Café is open 11 a.m.-2 p.m. Tuesday-Friday. To contact the museum, please call 563.326.7804, or visit www.figgeartmuseum.org.