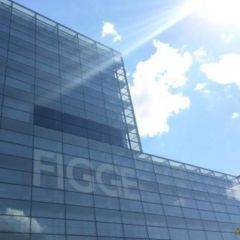 PRESS
Figge Acquires Portrait of Maquoketa for Permanent Collection
December 14, 2014
---
(December 15, 2014) – Local artist Rose Frantzen's nationally celebrated Portrait of Maquoketa, a multi-panel artwork, has been acquired by the Figge Art Museum and will officially be part of the permanent collection beginning in early 2015.

Portrait of Maquoketa includes 180 12x12" oil portraits of people from Maquoketa, Iowa, as well as a 315 square foot landscape view of Maquoketa painted on 34 vertical panels ranging in length from four to 10 feet and suspended from the ceiling. The panels are arranged in such a way that when a visitor sits at one end of the installation, all of the panels come together and align as one unified view of Maquoketa as seen from the hills outside of town. The other sides of the landscape panels display all 180 portraits.

From July 2005 to July 2006, Frantzen democratized portraiture, inviting anyone in her hometown of Maquoketa, Iowa to sit for a portrait painted from life. The head and shoulder portraits were each painted in a four or five hour sitting in a storefront on Main Street that was open to the public. "I wanted to bring to my community a tangible connection with the creative process," says Frantzen. "By making them the subject, I hoped that their interest would be stirred and that they would be touched somehow by what painting can reveal about the human experience." With ages ranging from 4 weeks old to 99 years old, Frantzen captured a beautiful and moving cross-section portrait of her town.

Taken as a whole, Portrait of Maquoketa is a strikingly complex portrayal of an iconic Midwestern town. It combines Frantzen's remarkable skills as a painter with her determination to create an interactive installation that helps us understand and appreciate the community as a living and breathing gathering of individuals, living their lives within the sheltering circle of cornfields and clouds.

"This will be a treasured artwork at the Figge," said Tim Schiffer, executive director. "People respond to its depiction of community, and to its innovative design, which includes sound elements. It will join Corn Zone and Deborah Butterfield's Half Moon as Figge favorites."

When Portrait of Maquoketa was displayed at the Figge in 2012-2013, it was very well received by visitors and the feedback was nothing but positive. Director of Development Raelene Pullen said, "It embodies the regional identity and values shared by the Figge and this community which is why so many were able to connect with it." Frantzen's remarkable technical ability, combined with her empathy for the subject and with the innovative installation, evokes curiosity and stimulates conversation.

Frantzen added, "I hope Portrait of Maquoketa will travel to other museums or be seen here by travelers from other places, serving as a window into our communities, our region. When I painted the portraits I tried to look into and then convey the dignity and nobility of each person who posed, to sidestep a lazy cynicism so prevalent in our time. I tried to put into the project a way of seeing ourselves, our neighbors with openness to a self worth. Having this view of ourselves showing in the beautiful Figge galleries or sent to other museums under the Figge umbrella satisfies something deep in my artistic need to serve."

The purchase has been made possible by a major gift from two private donors, with additional funds from current and former Figge Trustees, other supporters, and from the Figge's endowment for acquisitions.

About Rose Frantzen
A Maquoketa native, Rose Frantzen studied art at the American Academy of Art in Chicago, the Palette and Chisel Academy and at the Academy College of Fine Arts. Her work is collected internationally, and has been shown at the Butler Museum of Art, the Dubuque Museum of Art, the Denver Historical Museum and at the Portrait Society of America Annual Meeting, in addition to her exhibitions at the National Portrait Gallery and the Figge Art Museum. She has lectured and demonstrated portraiture across the country. Her husband, Charles Morris, also an artist, assisted with the perspective planning for the landscape panels of Portrait of Maquoketa.