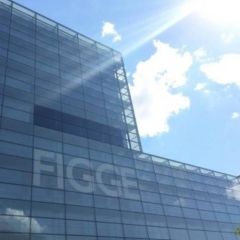 News
Figge & University of Iowa Celebrate New Exhibitions
January 29, 2011
---
This Sunday January 30th, the Figge Art Museum and the University of Iowa will be hosting a public reception celebrating three new exhibitions at the museum – Tracks: The Railroad in Photographs from the George Eastman House Collection; Crossing the Mississippi: The Quad Cities, the Railroad and Art; and Those Who Can: The University of Iowa School of Art & Art History Studio Faculty Exhibition. The event begins at 2 pm with a lecture by University of Iowa professor of Art History Joni Kinsey, PhD. Dr. Kinsey's lecture will survey an array of images relating to American artists' involvement with railroads and the impact of their art on tourism and travel. From the earliest "Artists Excursions" sponsored by railroads for the creation of corporate railroad art collections, artists have been an integral part of our relationship with trains, travel and tourism. Following the lecture, at 3 pm, the Figge and the University of Iowa will celebrate its continued partnership with light hors d'oeuvres and a cash bar in the lobby and café. Representatives from the University of Iowa will offer remarks on the Those Who Can exhibition at 3:30 pm in the lobby.

The lecture and reception are free to members, University of Iowa faculty, staff and students, or with general museum admission. For more information and museum hours, contact the Figge at 563.326.7804 or visit figgeart.org.

Tracks and its educational programming are funded in part by the Riverboat Development Authority, Humanities Iowa and the National Endowment for the Humanities.