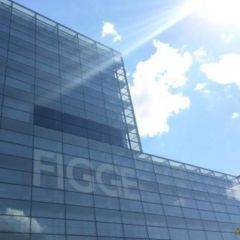 PRESS
Figge Art Museum Major Gift and Gallery Dedication
July 12, 2014
---
The Figge Art Museum has received a major gift of $500,000 from the estate of Ruth Evelyn Katz gifted by son Marty Katz of Moline in honor of his late parents Isador and Ruth Evelyn Katz and his late sister Judith Katz.

The second floor Print Gallery will be renamed The Katz Gallery gifted in memory of Isador, Ruth Evelyn and Judith Katz by the Katz Family. A private invitation-only dedication will take place on July 3 when 200 guests will gather to honor the extraordinary contributions of the Katz family to the Quad Cities arts community.

"The Katz family is pleased to make this contribution to the Figge Art Museum," said Marty Katz, son of Isador and Ruth Evelyn. "My parents loved this country and the community. Though they were not immigrants, they were not far removed from the immigrant experience and realized how fortunate they were to have been born in a country which allowed them to prosper, to find their talents and to pursue their aptitudes. What finer date to celebrate this than the birthdate of a nation which gave them that opportunity."

The $500,000 has been gifted to museum and will be attributed to the endowment of the museum, which according to Director of Development Raelene Pullen, "is the lifeblood of our institution and ensures that the Figge will be here in perpetuity for children and adults in our community to experience. The Katz name and impact on the Quad Cities will always be remembered thanks to their generous contribution."

"The Katz Gallery is located at the heart of the museum, adjacent to our art studios and the Mary Waterman Gildehaus Community Gallery," said Figge Executive Director Tim Schiffer. "It hosts some of our most popular and important exhibitions. We are so grateful to the Katz family for helping us to fulfill our mission of 'bringing art and people together.'"

Grandson Matt Katz added, "It is such an honor for our family to be involved with the Figge. I think it would be an accurate reflection of my grandparents to say that a city without a foundation of arts and culture is merely just a "place". A spot on a map. The arts add a dimension of depth and social integrity to any community. My grandparents were two very different people from extremely different backgrounds.
They had two very different personas, but the one common thread that brought them together was
celebrating culture. It is so exciting to know that even though they are not physically involved in the community anymore, that through the Figge they can be involved in spirit."

Isador and Ruth Evelyn were advocates for the arts dating back to the mid-50s when Ruth Evelyn joined the Rock Island Art Guild. Her Maka Gallery became the first serious art presence in downtown Rock Island in 1966 bringing fine arts to the Quad Cities through gifts like the many public sculptures that now are an important part of the Quad Cities' urban landscape. Ruth Evelyn was devoted to numerous cultural and civic organizations and served as a member of the Acquisitions Commission of the Figge Art Museum and the Davenport Museum of Art, its predecessor.

Isador was a prominent attorney who received an individual award in philanthropy and served on the boards of the Rock Island Public Library Foundation, Rock Island Community Foundation and Trinity Health Foundation.

The two worked very hard to help make the Quad-Cities a more beautiful place through their philanthropic efforts and devotion to bettering the community. Grandson Steven Katz explained, "They believed strongly in the notion of philanthropy and in "giving back" to the community. With the establishment of this gallery it's nice to see them honored for their many contributions to the community. I hope that this gallery will be able to enrich the lives of people in the Quad Cities for many years to come and perhaps even serve as a source of inspiration for future dreamers and artists and offer people new insights and ways of looking at our world. If it does, then I think my grandparents would be very pleased."

As happy as the family is about this dedication, there is also an element of the bittersweet because this gift is also to celebrate the memory of Judith Katz. Judith was the daughter of Ruth Evelyn and Isador who passed away on July 3, 1997. Brother Marty Katz said, "My sister was a physically beautiful person but it was surpassed by her intellect and artistic skills. To see her name along with my parents exactly 17 years after her death is going to be very special to our entire family."

The first exhibition that will be on display in The Katz Gallery will be Two Americans in Paris: Stuart Davis and Grant Wood opening July 12, 2014.