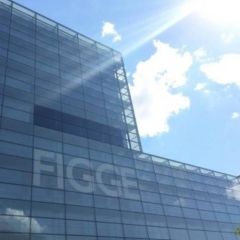 Press Release
Figge Art Museum Offering FREE Admission During the Month of April
March 30, 2023
---
PRESS RELEASE
FOR IMMEDIATE RELEASE
Figge Art Museum Offering FREE Admission During the Month of April
Davenport, Iowa (March 30, 2023) — Free admission AND a major exhibition on view? Yes, you read that correctly. The Figge Art Museum will offer FREE admission for everyone during the month of April thanks to a premier sponsorship from Deann Thoms.
Experience the major exhibition Sporting Fashion: Outdoor Girls 1800 to 1960 from the FIDM Museum at the Fashion Institute of Design & Merchandising in Los Angeles currently on view. Over 150 years of fearless fashion spans the third and fourth floors of the museum. With sixty-four fully accessorized ensembles comprising more than 480 historic objects, this is a must-see exhibition.
"I am thrilled Sporting Fashion was selected to be showcased at the Figge as it is the first exhibition of its kind to explore the evolution of women's sporting attire in Western fashion," said Deann Thoms. "I am dedicated to making it possible for everyone in the community to see this exhibition that celebrates physical freedom; examines the competing priorities of style, function and propriety; and explores the impact of new technologies and evolving social mores on women's sports clothing."
"The Figge strives to be accessible to all in our community, and we are fortunate to have the support of Deann Thoms, who shares that vision. Thanks to her generosity and leadership, everyone will have the opportunity see Sporting Fashion and the many other wonderful exhibitions currently on view free of charge during the entire month of April," said Figge Executive Director & CEO Michelle Hargrave.
There is always so much to see and experience at the Figge. In addition to Sporting Fashion, several other exhibitions are currently on display including: Zaiga Minka Thorson: Storms and Silver Linings, Veiled: The Art of Heidi Draley McFall, Mother, Goddess, Crone; The Art of Maria Cusumano, and Young Artists at the Figge. Visitors are encouraged to explore the Figge's permanent collection galleries, Family Activity Center and Museum Store during their visit.
The Figge offers free admission every Thursday from 5-8 p.m. all year round made possible by Chris and Mary Rayburn. The Thursdays at the Figge free evenings typically include free programming for the public.
Visit www.figgeartmuseum.org for complete details on exhibitions, programs, classes, events and more during the month of April and beyond.
About the Figge Art Museum:
The Figge Art Museum is dedicated to bringing art and people together. Located on the Mississippi River in downtown Davenport at 225 West Second Street, the Figge is the premier art exhibition and education facility between Chicago and Des Moines. Its landmark glass building, designed by British architect David Chipperfield, is home to one of the Midwest's finest art collections and presents world-class exhibitions, art classes, lectures, and special events that attract visitors of all ages. Museum hours are 10 a.m.­­-5 p.m. Tuesday, Wednesday, Friday, and Saturday; 10 a.m.-8 p.m. on Thursdays; and 12-5 p.m. on Sundays. Reservations are not required, but can be made at www.figgeartmuseum.org or by calling 563-345-6632. Admission to the museum is $10 for adults, $6 for seniors and students with ID and $4 children ages 4-12. Admission is free to Figge members and institutional members and to all on Thursday evenings. You can become a member for as little as $50 by visiting the Figge website. To contact the museum, please call 563.326.7804, or visit www.figgeartmuseum.org.
-END-