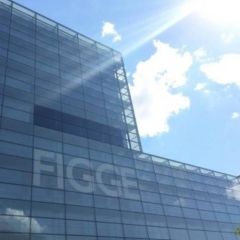 PRESS RELEASE
Figge Art Museum Selects New Executive Director
October 3, 2019
---
Figge Art Museum
225 West Second Street
Davenport, IA 52801
t 563.326.7804
www.figgeartmuseum.org
Contact: Ken Koupal
President of the Figge Board of Trustees
t 563.328.3062
PRESS RELEASE
FOR IMMEDIATE RELEASE
Figge Art Museum Selects New Executive Director
Davenport, Iowa (October 14, 2019) – After an extensive nationwide search, The Figge Art Museum is pleased to announce that Michelle Hargrave will become Executive Director and Chief Executive Officer of the museum effective December 9, 2019. A museum professional with two decades of experience, Hargrave currently serves as the Deputy Director of the New Britain Museum of American Art in New Britain, CT.
"Her extensive background growing cultural institutions will serve her well as she continues the growth and success of the Figge," said Ken Koupal, President of the Figge Board of Trustees. "Her experience and leadership abilities combine nicely with our opportunity to take the Figge to the next level as a regional resource and cultural center for the Quad Cities."
As Deputy Director of the NBMAA, Hargrave oversaw significant growth in the NBMAA's programs, contributed and earned revenue, membership, and attendance. In her prior role as Curator at the American Federation of Arts, New York, NY, Hargrave organized dozens of exhibitions and spearheaded international and national partnerships as well as institutional development. She holds a Master of Arts from The Bard Graduate Center, New York, NY, where she spent several years as an Associate Curator.
"We were delighted by the incredible interest shown in the position, clearly indicating the strong regional and national reputation that the Figge has gained in the past decade," said Don Doucette, Chair of the Search Committee. With the help of a professional search firm specializing in leadership positions in the art museum world, the Figge attracted applications and expressions of interest from highly qualified candidates from across the country, which the committee narrowed to a pool of finalists who visited the museum and community over four days earlier in September. "All were impressed not only with the current and future potential of the Figge, but also by the quality of life of the Quad Cities and the genuine hospitality shown to them in the interview process," continued Doucette.
Hargrave emerged from the process as the unanimous selection of the committee. Her appointment was made official by a vote of the Executive Committee of the Board with the endorsement of the full Board.
The Davenport Museum of Art Gallery was founded in 1925 when former mayor, Charles A. Ficke donated 330 works of art. In 2005 the collection was transferred to the newly formed Figge Art Museum and moved into the glass landmark on the banks of the Mississippi River which was designed by British architect David Chipperfield. In the past year, the Figge annually serves over 110,000 individuals through educational and outreach programs and visitors to the museum.
For further information visit www.figgeartmuseum.org.
-END-