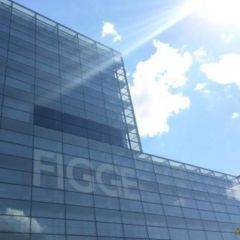 PRESS
Figge Receives Major Gift of Edouard Duval-Carrié Artwork
February 24, 2013
---
The Figge is pleased to announce the gift of several elements of Edouard Duval-Carrié's multi-part installation, the vodou altar Endless Flight, 2000.

The creation of the installation piece Endless Flight, (which came to the museum in 2000), was underwritten by several of Duval-Carrié's longtime supporters and the late Dr. Walter Neiswanger. The inspiration for its creation was a commission by the Haitian government for an exhibition celebrating the bicentennial of Haiti's independence in 2004. The complete altar, first exhibited at the Miami Art Museum, later appeared at the Figge Art Museum as a part of the exhibition Edouard Duval-Carrié: Migration of the Spirit in 2005.

In addition to Dr. Neiswanger, who underwrote the acquisition of the altar's polyptych in 2000, additional sponsors underwrote the fabrication of the freestanding elements of this impressive installation with the intent to donate them to the Figge in the future.

Happily, in late 2011, the final elements of the altar were donated by their respective sponsors, David Wallack, entrepreneur, art collector, and longtime supporter of the Haitian Cultural Arts Alliance in Miami and CEO of the South Beach landmark, Mango's Tropical Café and Kenan Siegel, CEO of Siegel Gas & Oil Corp, an art collector and entrepreneur who currently serves as a director on the Haitian Cultural Arts Alliance board. Endless Flightis arguably one of the masterpieces of the Figge's collection representing as it does the intersection of cutting edge contemporary installation art with best of Haitian artistic tradition.