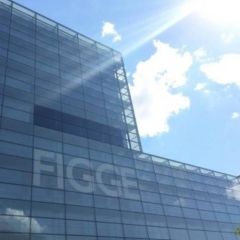 PRESS RELEASE
Figge to Feature the Work of Haitian-American Artist Didier William
February 3, 2020
---
Figge to Feature the Work of Haitian-American Artist Didier William
Davenport, Iowa (February 3, 2020) – The Figge Art Museum is pleased to announce Didier William: Lakou, the first solo museum exhibition of the celebrated Haitian American artist Didier William. On view from February 8 – May 31, 2020 in the Figge Art Museum's second floor Katz gallery, Didier William: Lakou will highlight the artist's continuing exploration of cultural identity. Featuring artwork lent by the artist, Anna Zorina Gallery, New York, NY, James Fuentes Gallery, New York, NY, Union College/Mandeville Gallery, Schenectady, NY, and numerous private individuals, the exhibition will include thirteen mixed-media paintings and prints, which have never been displayed in the Midwest. One of the works, N'ap naje ansamn, n'ap vole ansamn, was created in preparation for the exhibition and will be making its public debut. Born in Port-au-Prince and raised in Miami, William draws on Haitian history, mythology and his personal experience to explore themes of cultural identity. The artist meticulously crafts large-scale compositions using woodcarving, printmaking, painting and collage. As William has stated of the artwork, "I want the work to be just as complex and rich as the real world and lived experiences I am in…" Assistant Curator Vanessa Sage says, "Didier William's enigmatic compositions will no doubt cause museum visitors to stop in their tracks in order to admire them. In addition to stunning technical execution and visual harmony, William's work delves into important issues surrounding cultural identity, immigration and the legacies of colonialism. We are thrilled to share Didier William's artwork with the Quad Cities community."
The title of the exhibition, Lakou, refers to settlements in Haiti built around a shared courtyard in which family groups work together to grow food, raise livestock, and practice religious ceremonies. The lakou settlement structure was established following the Haitian Revolution (1791–1804) wherein former slaves led a successful rebellion and founded the sovereign nation of Haiti in 1804. The lakou provided a space for community bonds and cultural traditions to flourish. The legacies of colonialism, resistance, and the struggle for agency are important in William's work as are their reverberations in contemporary life. In William's artwork, issues of race, gender, and ethnicity are also reflected in the recurring carved eye shapes within each figure. As he states, the eyes "allow the body to return the curious gazes felt by those of us who occupy unconventional bodies." The figures are strange and otherworldly, defying categorization by race or gender. As viewers look at the figures, the mass of eyes confidently gaze back, challenging the attempt to define them. "The Figge has long had a commitment to Haitian art and artists, and we are honored to present the work of Didier William, which features iconography and concepts specific to the immigrant experience as well as Haitian culture and mythology," states Michelle Hargrave, Executive Director and CEO of the Figge. "But his powerful paintings and prints have universal appeal. Accessible motifs, such as the repeating eye, and the ambiguity of the figures will draw viewers in and allow them to create their own interpretations and experiences."
The titles of the artwork in Lakou will be in Haitian Kreyòl and left intentionally untranslated on the exhibition labels, giving visitors a small sense of the language barriers faced by immigrant populations.
Didier William: Lakou was organized by the Figge Art Museum with the assistance of Anna Zorina Gallery, New York, and James Fuentes Gallery, New York. A full-color catalogue will be available for purchase in the Figge Art Museum Store beginning in late March 2020.
Visitors are encouraged to visit the Figge's Haitian gallery to learn more about the history as well as the artistic and cultural traditions of Haiti. The Figge's Studio 1 space will have works created by Creative Arts Academy (CAA) students inspired by Didier William's artwork. Led by Colleen Tomlinson and Heidi Hernandez, the CAA students created artwork drawing on their personal memories and designed an immersive community space in which all visitors are welcome to contribute.
Didier William: Lakou will be on view through May 31, 2020.
Companion Programming:
Free Family Day
Saturday, February 22
10 a.m.-5 p.m. Free admission
10 a.m.-1 p.m. Scheduled Activities
Explore and create! Free admission and art activities for the whole family.
Sponsored by Northwest Bank & Trust and Quad-City Times
Collection and Exhibition Highlights Tours
1:30 p.m. Saturday, February 29, March 28
1:30 p.m. Sunday, February 16, March 8
Artist Reception: Didier William
Thursday, March 19
5-6:30 p.m. Reception
Cost: $20 for Figge members / $25 for non-members Enjoy light refreshments and wine at this special reception with Artist Didier William. Register at www.figgeartmuseum.org or call 563.345.6638.
Hear from Artist Didier William
Thursday, March 19
6:30 p.m. Talk
Artist Didier William will give a talk in the second-floor John Deere Auditorium.
Experience the Artist: Didier William – MEMBERS ONLY
11 a.m. Friday, March 20
$40 per person
Limited space; registration required
Figge Members are invited to meet artist, Didier William and enjoy a Q&A session with him in his exhibition, Lakou. All attendees will receive a complimentary signed copy of the exhibition catalogue.
About Didier William:
William received an MFA in painting and printmaking from Yale School of Art and a BFA in painting from the Maryland Institute College of Art. He has exhibited at the Museum of the African Diaspora (MOAD), Pennsylvania Academy of Fine Arts, the Bronx Museum of Art, and numerous other museums. William has taught at Yale School of Art, Vassar College, Columbia University, SUNY Purchase, and the Pennsylvania Academy of Fine Arts. He is currently Assistant Professor of Expanded Print at Mason Gross School of the Arts at Rutgers University in New Brunswick, New Jersey.
About the Figge Art Museum:
The Figge Art Museum is located on the Mississippi River in downtown Davenport at 225 West Second Street. The Figge is home to one of the largest collections of Haitian Art in the United States. Hours are from 10 a.m. to 5 p.m., Tuesday through Saturday and Sundays noon to 5 p.m. Thursdays the museum is open until 9 p.m. Admission to the museum and tour is $10 for adults, $6 for seniors and students with ID and $4 children ages 4-12. Admission is free to Figge members and institutional members, and always free to all on Thursday evenings from 5 p.m. to 9 p.m. The Figge Café is open 11 a.m.-2 p.m. Tuesday-Friday. To contact the museum, please call 563.326.7804, or visit www.figgeartmuseum.org. *Press Images available upon request* * Use provided full caption and copyright information.
The publication of images is permitted only for press purposes and with the corresponding credit lines. Images may not be cropped, detailed, overprinted, or altered
1. Didier William Dantor a Anais, 2018
Wood carving, collage, ink, and acrylic on panel
Loan Courtesy of Doreen and Gilbert Bassin, Image Courtesy of the Artist and Anna Zorina Gallery, NYC, © Didier William
2. Didier William N'ap naje ansamn, n'ap vole ansamn, 2019
Wood carving, collage, ink, oil, and acrylic on panel
Loan Courtesy of the Artist and Anna Zorina Gallery, NYC, Image Courtesy of the Artist and Anna Zorina Gallery, NYC, © Didier William
–END–