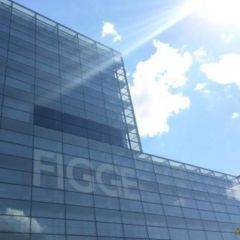 PRESS
Genie: The Figge's New Robot
August 21, 2015
---
Davenport, Iowa (August 21, 2015) Genie will be giving people with disabilities, the homebound, and elderly with limited mobility tours of the Figge Art Museum in Davenport from remote locations. Wherever they are, Genie will be able to take them to the museum.

Made possible through a sponsorship by Genesis Health System, the Figge has acquired BeamPro equipment to guide remote tours of the museum for people who might not otherwise be able to enjoy an important community asset. A docent, or volunteer guide, will be at Genie's side during the remote tours explaining what Genie is showing.

Genesis and the Figge today demonstrated the capabilities of Genie.

"With Genie, a homebound person can virtually travel through our galleries and experience the artworks at their own pace, accompanied by a trained docent, or guide,'' said Tim Schiffer, Executive Director of the Figge Art Museum. "He or she will be able to 'drive' the device from their home computer. It will be the next best thing to physically visiting the museum.

"This technology provided to the Figge through the partnership with Genesis puts us at the forefront of efforts to broaden the scope of the art museum.''

Genie is considered to be the next level of video conferencing. Genie will offer high quality video and audio, but with mobility. Similar robots are being used in education, business and manufacturing, in addition to a growing presence in museums.

The use of robotics is also important in the care of Genesis Health System patients. Genesis Health System uses the daVinci Surgical System for conducting minimally invasive surgeries with quicker recoveries and positive patient outcomes.

Surgeon Robert Harson, MD said urological, gynecological and cancer procedures, including the removal of tumors, are performed at Genesis using the robotic daVinci Surgical System. Robotic simulators are used for training of staff and training of new nurses at Genesis.

"The Genesis interest in this particular technology is adaptability and accessibility but throughout Genesis, we are using robotics to improve patient care and make the patient experience safer with better outcomes,'' said Jordan Voigt, president, Genesis Medical Center, Davenport. "Genie, the new Genesis spokes-robot, will give patients who are in the rehabilitation unit, cancer unit, our Genesis Senior Living Communities, home health and hospice patients the potential to enjoy the outstanding features and exhibits of the Figge Art Museum even if they can't physically go to the museum.

"They can literally have the world of art at their fingertips. The visual stimulation and calmness of viewing art has been shown to improve the patient experience and recovery of long-term and hospice patients.''

Voigt said Genie is also an experiment of sorts to consider future uses of the technology within Genesis.

"Imagine using Genie for its telehealth benefits. A patient may be able to schedule a safe and secure video appointment with a primary care doctor in Genesis Health Group using similar technology. In Genesis Senior Living Communities, the relatives of our residents don't always live within easy travel distance. A BeamPro device could improve interaction between family and friends and our residents and give the family peace-of-mind that their loved one is doing well. Also, social interaction is known to be beneficial with our elderly patients and their family.''

Genie users will have access to priceless works in the Figge's galleries, including its Grant Wood gallery, its renowned collections of American, Haitian and Spanish Viceregal art, and traveling exhibitions from around the country. Genie also has potential for use by school groups who can visit the museum virtually prior to a field trip to familiarize themselves with the collection.

To find out more about Genie and virtual tours, call the Figge Art Museum at 563.326.7804.