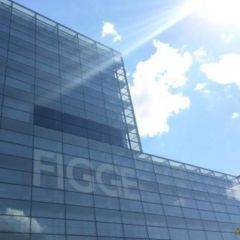 PRESS
Giving the Devil His Due: The Art of Gary Kelley
September 12, 2016
---
(September 12, 2016) – Beginning Saturday, a new exhibition will open at the Figge Art Museum. Giving the Devil His Due: The Art of Gary Kelley will be on view in the fourth floor gallery.
The exhibition is a visual exploration in drawings and monotypes of the lives of two legendary musicians: the 19th-century violinist and guitarist Nicolo Paganini and his 20th-century counterpart, blues guitar legend Robert Johnson. Though their lives were divided by a century, both shared a restless intellectual and emotional urge to master their instruments and, according to legend, sold their souls to the devil to achieve perfection.
Renowned Cedar Falls, Iowa, artist, illustrator and music lover Gary Kelley explores these parallel lives in the artwork he created for two award-winning books: Dark Fiddler: The Life and Legend of Nicolo Paganini, written by Aaron Frisch, and Black Cat Bone: The Life of Blues Legend Robert Johnson, written by J. Patrick Lewis.
>span class="s1"
>span class="s1"
>span class="s1">
Companion Events:
Free Opening Reception & Gallery Talk
Friday, September 16
5:30 p.m. Opening Reception
7 p.m. Gallery Talk with Gary Kelley
Mingle with members and artist Gary Kelley to celebrate the opening of the exhibition. Enjoy light refreshments and a cash bar followed by a gallery talk with Kelley. Free admission.
Celebrating Gary Kelley's Giving the Devil His Due
6 p.m. Thursday, November 17
Community partners join forces for this exciting night of music, dance and visual arts, all in celebration of illustrator Gary Kelley's exhibition Giving the Devil His Due. From an opening performance by the Quad City Symphony Orchestra's Concertmaster Naha Greenholtz, to the musical gifts of the River Music Experience's Ellis Kell, to the extraordinary talents of Ballet Quad Cities, this night is sure to be inspirational.
Free Family Day
Saturday, December 10
Enjoy free admission all day, with special activities relating to current exhibitions.
Exhibition Tours
1:30 p.m. Saturday, October 22, November 5
1:30 p.m. Sunday, October 23, November 6