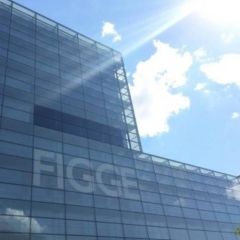 PRESS RELEASE
Henry Dreyfuss: Designs for the Modern Age Opening Saturday at the Figge Art Museum
February 17, 2020
---
Henry Dreyfuss: Designs for the Modern Age Opening Saturday
at the Figge Art Museum
Davenport, Iowa (February 17, 2020) – The Figge Art Museum in downtown Davenport will feature the work of influential industrial designer Henry Dreyfuss beginning Saturday. Henry Dreyfuss: Designs for the Modern Age, will be the major first exhibition in over 20 years to focus entirely on Dreyfuss and his designs from the mid-20th century.
From the 1930s to the 1960s, Dreyfuss and his associates designed a number of products including the first styled John Deere tractor line, the 20th Century Limited passenger train, the Honeywell Round thermostat and the Western Electric Model 500 telephone for Bell. These products were used by millions of people and came to represent modern living during that era.
Organized by the Figge Art Museum and sponsored by John Deere, Henry Dreyfuss: Designs for the Modern Age includes a John Deere Model H Tractor, circa 1939, objects from his interior design for the RKO Orpheum (now the Adler Theatre in Davenport, Iowa), and stunning interior designs completed in vibrant watercolor for the 20th Century Limited passenger train and more.
Visitors will be able to view original sketches, design proposals and finished products created for companies like Deere and Company, Minneapolis Honeywell, and others. Dreyfuss's theatrical background, design theories and an impressive array of objects will also be explored. "Henry Dreyfuss is a foundational figure in American industrial design," says Figge Assistant Curator Vanessa Sage. "The products on display embody refined modern sensibilities and demonstrate his deep dedication to "designing for people."
Henry Dreyfuss: Designs for the Modern Age includes objects on loan from John Deere Archives, the Cooper Hewitt Smithsonian Design Museum, the Albany Institute of History and Art, the AT&T Archives and History Center, and the RiverCenter and Adler Theatre, that demonstrate how Dreyfuss and his staff adjusted to changing technology and tastes while remaining dedicated to user-centered design. These products will tell the story of Dreyfuss's enduring relationships with companies like Deere & Company, and how he helped shape brand identity as well as product lines.
"The Figge is thrilled to be able to organize an exhibition that puts Henry Dreyfuss in the spotlight," says Michelle Hargrave, Figge executive director and CEO. "His distinguished work over the years coupled with his profound impact on the consumer market of today will be eye opening to many."
Henry Dreyfuss: Designs for the Modern Age will be on view in the third-floor gallery through May 24.
About Henry Dreyfuss: Henry Dreyfuss (American, 1904 - 1972) was one of the most influential industrial designers of the 20th century. Following success as a stage designer on Broadway, Dreyfuss began pursuing industrial design in the late 1920s. The profession had grown steadily as manufacturers sought to sell their products in a competitive consumer market. Dreyfuss and his associates designed everything from irons to typewriters to tractors, with a distinctive viewpoint marrying usability and modern appeal. A leader in the field for decades, Dreyfuss continued to advocate for better design in a variety of contexts until his death in 1972. His principles shaped the field of industrial design and continue to impact the products of today.
Companion Programming:
Member Preview: Henry Dreyfuss
5-7 p.m. Friday, February 21
FREE for Members | Registration Required
Figge members are invited for a sneak-peak of Henry Dreyfuss: Designs for the Modern Age. Docents will be available to guide members viewing the exhibition and offer insights into the works. Complimentary refreshments and cash bar will be available.
Free Family Day
Saturday, February 22
10 a.m.-5 p.m. Free admission
10 a.m.-1 p.m. Scheduled Activities
Explore and create! Free admission and art activities for the whole family.
Sponsored by Northwest Bank & Trust and Quad-City Times
Henry Dreyfuss: At Work with Deere, Bell and Honeywell
6:30 p.m. Thursday, February 27
Gain insight on designer Henry Dreyfuss and his work with Deere & Co., Bell Telephone Laboratories and Minneapolis Honeywell with Dreyfuss scholar Dr. Russell Flinchum, associate professor of art history, North Carolina State University.
Exhibition Tours
1:30 p.m. Saturday, February 29, March 28, April 11
1:30 p.m. Sunday, March 8, April 19
Free Senior Day
10 a.m.-9 p.m. Thursday, April 2
Join us the first Thursday of each month for Free Senior Day for seniors age 60 and up, featuring a 1:30 p.m. museum tour followed by a 2:30 p.m. film. April's Free Senior Day will focus on Henry Dreyfuss: Designs for the Modern Age. Please meet your tour guide in the Figge's Quad City Bank & Trust Grand Lobby; the film will be shown in the John Deere Auditorium. All seniors also receive a 10% member discount in the Figge Café and Museum Store on Free Senior Day.
Dreyfuss: Designing for People
6:30 p.m. Thursday, April 16
Explore the world of Henry Dreyfuss and user-centered design with Dr. Deana McDonagh (Professor of Industrial Design, University of Illinois Urbana-Champaign).
About the Figge Art Museum:
The Figge Art Museum is located on the Mississippi River in downtown Davenport at 225 West Second Street. Hours are from 10 a.m. to 5 p.m., Tuesday through Saturday and Sundays noon to 5 p.m. Thursdays the museum is open until 9 p.m. Admission to the museum and tour is $10 for adults, $6 for seniors and students with ID and $4 children ages 4-12. Admission is free to Figge members and institutional members, and always free to all on Thursday evenings from 5 p.m. to 9 p.m. The Figge Café is open 11 a.m.-2 p.m. Tuesday-Friday. To contact the museum, please call 563.326.7804, or visit www.figgeartmuseum.org.
–END–