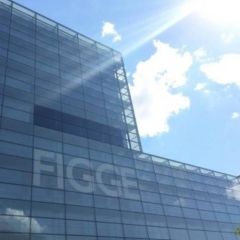 PRESS RELEASE
Internationally Known DeWitt Artist's Work to be on View at the Figge Art Museum
February 21, 2023
---
Davenport, Iowa (Tuesday, February 21, 2023) – Veiled: The Art of Heidi Draley McFall will be on view in the Figge Art Museum's second-floor Katz Gallery beginning Saturday, February 25. Arrestingly evocative, her large-scale portraits invite audiences to explore the expressions of her subjects. This is McFall's first solo museum exhibition and features her largely unseen recent series of pastel drawings coated in resin. Based near DeWitt, Iowa, McFall is a self-taught artist whose work has been part of group exhibitions at museums across the country and in Italy.
This exhibition features 19 works created over the past four years portraying the artist's family, friends, and past acquaintances. McFall's connection with her subjects gives her insight into their emotional state and personality. Each work has a profound sense of intimacy and authenticity that encourages us to explore our shared humanity.
"Heidi's portraits of her friends and family draw you in immediately— from the delicate mark-making to the shifting surface textures, these works must be seen in person to appreciate their many nuances and expressive power," said Figge Assistant Curator Vanessa Sage. "While she has been an artist active in the region for years, this is a fantastic opportunity for visitors to see new, exciting and experimental work by the artist."
The monumental drawings are sourced from black-and-white film photography that McFall develops in her darkroom. The spontaneous effects that occur during the developing process provide a pathway for her to break away from the confines of traditional realism.
Following the creation of the drawings, she coats the paper in resin – a liquid epoxy that hardens into a clear layer. The integration of resin into her art making permits multiple avenues for experimentation. McFall alters the resin through the addition of powders and dyes, and by impressing the top layer with materials, including shower curtains and shrink wrap. The final works are a combination of intention and chance variations, with striking visual effects, intriguing surface textures, and veils of pigment that add depth to the drawings.
"These last 4 years of making art have been all about experimentation that yielded successes and failures," said McFall. "Thrilling and exhilarating when the experiments work and crushing when they fail. It's difficult to find humor in that process when, with each work, you know that at any moment one wrong turn, or a lapse in attention, or an unconsidered variable, could mean disaster." McFall's work has been the subject of solo and group exhibitions at galleries and museums including Annina Nosei Gallery, New York, Leo Castelli Gallery, New York, Paolo Curti Gallery, Milan, Italy, The McNay Art Museum, San Antonio, The Museum of Contemporary Art Denver, The Boulder Museum of Contemporary Art, Dubuque Museum of Art and Elmhurst Art Museum.
Veiled: The Art of Heidi Draley McFall will be on view through June 4, 2023. The exhibition's supporting sponsor is Bill Barnes and contributing sponsors include First Central State Bank and Ohnward Bancshares, Inc.
ABOUT THE FIGGE ART MUSEUM:
The Figge Art Museum is dedicated to bringing art and people together. Located in downtown Davenport at 225 West Second Street, the Figge is the premier art exhibition and education facility between Chicago and Des Moines. Its landmark glass building, designed by British architect David Chipperfield, is home to one of the Midwest's finest art collections and presents world-class exhibitions, art classes, lectures, and special events that attract visitors of all ages. Museum hours are 10 a.m.-5 p.m. Tuesday, Wednesday, Friday, and Saturday; 10 a.m.-8 p.m. on Thursdays; and 12-5 p.m. on Sundays. Reservations are not required but can be made at www.figgeartmuseum.org or by calling 563-345-6632. Admission to the museum is $10 for adults, $6 for seniors and students with ID and $4 children ages 4-12. Admission is free to Figge members and institutional members and to all on Thursday evenings. You can become a member for as little as $50 by visiting the Figge website. To contact the museum, please call 563.326.7804, or visit www.figgeartmuseum.org.
Companion Programs:
Artist Talk; Heidi Draley McFall
Thursday, March 2
5 p.m. Member Reception
6:30 p.m. Artist Talk
Drawing: Fabulous Faces
Member $150 / Non-member $165
Wednesdays, 6-8 p.m. (Apr. 5, 12, 19, 26)
Instructor: Gloria Burlingame
Free Senior Day Tour & Activity
Thursday, April 6, 1 p.m.
FREE Family Day
Sunday, April 30, 12-3 p.m.
-END-