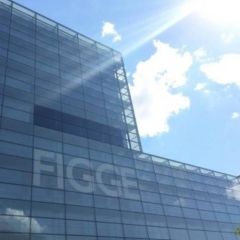 PRESS RELEASE
Local Artist Zaiga Minka Thorson's Work on View at the Figge Art Museum
January 23, 2023
---
Davenport, Iowa (January 23, 2023) – Local artist, Black Hawk College Professor Emerita and Michigan native Zaiga Minka Thorson's work will be featured in the Figge's first-floor Gildehaus Gallery at the Figge Art Museum beginning Saturday. Her work demonstrates the power of art to heal not only the viewer but the maker as well.
Zaiga Minka Thorson: Storms and Silver Linings will be on view in the Figge's first floor Gildehaus Gallery and includes a site-specific installation of Spirit Vessel, a suspended boat made of wire and fabric, serving as a repository to carry away pain and burdens. Above Spirit Vessel, glowing papier mache orbs will be suspended, representing hope, gratitude and spiritual connections.
Thorson lost her father Alfred Minka in 2013 when he was murdered in her childhood home. This terrible crime was committed by a neighbor who her father knew and had trusted, amplifying the trauma of the experience. Thorson's grief led to the creation of her artworks Leelaunau Cathedral and Baltic Coast, which had a significant impact on the direction of her work on display in Storms and Silver Linings.
"The Storms and Silver Linings title serves as a metaphor for our shared experiences of joys and sorrows throughout life, said Thorson. "I turn to creating as a way to comprehend the world, express feelings and even as a form of escapism. My hope is that by openly sharing my story, it may help others on their own healing journey and lead to greater understanding and empathy among all of us."
In addition to the site-specific elements, the exhibition will contain 18 new paintings, featuring imagery that elicits memories of Thorson's childhood and her concept of spirituality, life's joyous moments and the power of the divine in nature.
Components of the installation were created in collaboration with community members who were invited to participate in a series of workshops at the museum hosted by Thorson and art therapist Dana Keeton leading up to the exhibition. These participants were invited to tell their own stories of loss, gratitude, and acceptance through creation.
"It is wonderful to be able to tell a personal story of healing through provocative works created by a beloved local artist in our galleries," said Assistant Curator Joshua Johnson. "Zaiga's generosity in inviting the community to participate in her journey towards acceptance is very moving."
By sharing her own story of healing, Thorson hopes others may consider artmaking as a tool for expression, acceptance and empathy.
Visitors will be invited to tell their stories of hope, burden, and gratitude by writing on pieces of cloth and paper which will be continuously added by Thorson to the sculptural components of the exhibition.
Zaiga Minka Thorson: Storms and Silver Linings will be on view through May 7, 2023.
Companion Programs:
Artist Talk: Zaiga Minka Thorson
Thursday, February 2
5:00 p.m. Member Reception | 6:30 p.m. Artist Talk
In Conversation: Zaiga Minka Thorson, Dana Keeton, and Ryan Vizzions
Thursday, February 23
5:00 p.m. Member Reception | 6:30 p.m. Artist Talk
Free Family Day
Sunday, April 30, special activities 12-3 p.m. | Free admission all day
About the Figge Art Museum:
The Figge Art Museum is dedicated to bringing art and people together. Located in downtown Davenport at 225 West Second Street, the Figge is the premier art exhibition and education facility between Chicago and Des Moines. Its landmark glass building, designed by British architect David Chipperfield, is home to one of the Midwest's finest art collections and presents world-class exhibitions, art classes, lectures, and special events that attract visitors of all ages. Museum hours are 10 a.m.-5 p.m. Tuesday, Wednesday, Friday, and Saturday; 10 a.m.-8 p.m. on Thursdays; and 12-5 p.m. on Sundays. Reservations are not required but can be made at www.figgeartmuseum.org or by calling 563-345-6632. Admission to the museum is $10 for adults, $6 for seniors and students with ID and $4 children ages 4-12. Admission is free to Figge members and institutional members and to all on Thursday evenings. You can become a member for as little as $50 by visiting the Figge website. To contact the museum, please call 563.326.7804, or visit www.figgeartmuseum.org.
-END-