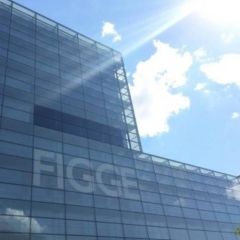 News
Minneapolis Children's Book Illustrator to Lead Workshop at the Figge
February 14, 2012
---
On Saturday, February 18 the Figge Art Museum will host "The Luck of the Draw," a 3-part program led by illustrator Cori Doerrfeld. The program begins at 1pm with a presentation in the auditorium. At 2pm, Doerrfeld will lead an illustration demonstration in the studios. Program participants will be invited to take part in hands-on activities at 3pm. The program is designed for aspiring illustrators of all ages and is free with museum membership or paid admission.

In her presentation, Doerrfeld will review her journey towards becoming a published illustrator and author. She will share the stories that have shaped her career, revealing what she did to get noticed, but also how luck played a part in each and every step. Doerrfeld says she was never a huge risk taker, but nevertheless, decided to take a leap and pursue a career as an illustrator.

"I fully believed in my abilities, but the luck factor is a hard thing to control. Finding my way from a child drawing unicorns on school folders to a published illustrator/author is really the result of a perfect mix of both ambition and luck. Where I went to grad school, how I got my agent, or how I even got my first book deal are all partially due to simply being in the right place at the right time. Each subsequent book project has also felt like a mixed blessing of ingenuity and getting lucky," states Doerrfeld.

The presentation will include several personal images such as childhood drawings, sketchbook pages, and process photos. Doerrfeld will also discuss some of her personal experiences in the publishing world and what it has been like to work with different publishing houses and editors. Following the lecture, Doerrfeld invites guests to spend some time with her in the studio. There will be original artwork for people to view, process materials, and a few simple projects for people to participate in.

Cori Doerrfeld received a B.A. in studio art from St. Olaf College, as well as her Post Baccalaureate in illustration from the Minneapolis College of Art and Design. She has illustrated Welcome to Your World, Baby! and It's the Best Day Ever, Dad!, both by actress Brooke Shields (Harper Collins), as well as both Seashore Baby and Snowflake Baby by Elise Broach (Little, Brown). Doerrfeld recently released a picture book she wrote herself, Penny Loves Pink (Little, Brown). Doerrfeld lives in Minneapolis, Minnesota and is represented by Rachel Orr at Prospect Agency.

At 4pm, the Figge Museum Store will hold a book signing with Doerrfeld. Four books that Doerrfeld illustrated will be for sale, including Penny Loves Pink, Seashore Baby and Snowflake Baby. Little Bunny Foo Foo (Dial Books) by Doerrfeld was released in January 2012 and will also be available.