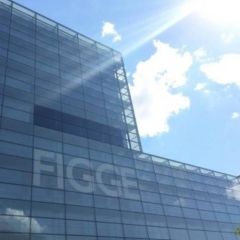 PRESS RELEASE
New American Scene
October 9, 2020
---
PRESS RELEASE
FOR IMMEDIATE RELEASE
New American Scene on View at the Figge Art Museum Beginning Saturday, October 10
Davenport, Iowa (October 9, 2020) – Many of the works the Figge Art Museum has collected over the past few years provide insight into modern American life from various points of view. Beginning Saturday,
New American Scene: Recent Acquisitions to the Figge Collection will be on view in the Gildehaus Gallery and examine some of these modern perspectives on American life with 15 featured works that have been added to the museum's collection within the last 5 years.
The "American Scene" is a term applied predominantly to representational paintings made in the first half of the 20th century that captured American subject matter. This term was applied to artists including Grant Wood and Thomas Hart Benton who focused on agricultural life in the nation's heartland and also artists like Edward Hopper and Martin Lewis who portrayed scenes of modern city life. Most of the artists of this era were Caucasian heterosexual and male and their works demonstrate this specific viewpoint.
In New American Scene the works on view have many of the same American Scene subjects and themes but are interpreted by a more diverse group of modern and contemporary artists who work with a broader range of materials. Many of the works depict a nation that is more urban, interconnected and diverse while drawing attention to issues of racial inequality, poverty, gentrification, gang violence and environmental destruction.
The artists in New American Scene include Paul D'Amato, Michelangelo Lovelace, John Ahearn, Larry Silver, Mark Messersmith, Adolf Rosenblatt, Rose Frantzen, Jefferson Pinder, Teska Overbeeke, Richard Estes and Frank Paulin. These artists' portrayal of American life is more critical than many of the artists traditionally associated with the American Scene, while also celebrating the communities in which they live. Their works demonstrate how broader perspectives provide a more diverse view of American life and its continued progression.
New American Scene is sponsored by Sue Quail and Dr. Rob and Mindy Harson and will be on view through January 24, 2021.
Companion Programming:
Virtual Family Day – Your Way!
October 10-24
Free Family Days have gone virtual! Join us online for a family-flexible virtual experience. Your free registration grants your family a 2-week access to a virtual line-up, which means you can choose your day to play. Family activity packs also available with registration. Sign up at www.figgeartmuseum.org.
Virtual Curator Talk: Joshua Johnson
6:30 p.m. Thursday, November 19
Figge Assistant Registrar Joshua Johnson will introduce the exhibition New American Scene: Recent Acquisitions to the Figge Collection, during this exciting program. The exhibition will be on view at the Figge through January 3, 2021. This online program is free but advanced registration is required. After registering you will receive an e-mail two hours before the program begins, which will include a Zoom link to join the program at the scheduled time that evening.
About the Figge Art Museum:
The Figge Art Museum is dedicated to bringing art and people together. Located on the Mississippi River in downtown Davenport at 225 West Second Street, the Figge is the premier art exhibition and education facility between Chicago and Des Moines. Its landmark glass building, designed by British architect David Chipperfield, is home to one of the Midwest's finest art collections and hosts world-class traveling exhibitions, art classes, lectures, and special events that attract visitors of all ages. Museum hours are 10 a.m.­­-5 p.m. Tuesday, Wednesday, Friday, and Saturday; 10 a.m.-8 p.m. on Thursdays; and 12-5 p.m. on Sundays. Reservations are strongly encouraged and can be made at www.figgeartmuseum.org or by calling 563-345-6632. Reservation times are available at 10 a.m., 12:30 p.m. or 3 p.m. on Tuesday-Saturday; Thursdays there is also a 5:30 p.m. slot available for all. The 10 a.m. reservation period Tuesday-Friday will be reserved for those who are high-risk visitors. Admission to the museum is $10 for adults, $6 for seniors and students with ID and $4 children ages 4- 12. Admission is free to Figge members and institutional members and to all on Thursday evenings. The Figge Café is open for lunch 11 a.m.-2 p.m. Tuesday-Saturday. To contact the museum, please call 563.326.7804, or visit www.figgeartmuseum.org.
–END–