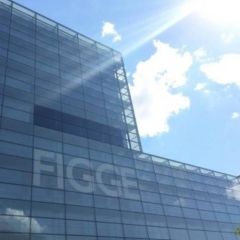 PRESS RELEASE
New Mesmerizing Art Installation by Swiss Artist Zimoun Coming to the Figge Art Museum
September 19, 2023
---
PRESS RELEASE
FOR IMMEDIATE RELEASE
New Mesmerizing Art Installation by Swiss Artist Zimoun Coming to the Figge Art Museum
Davenport, Iowa (September 19, 2023) – Experience a new site-specific installation beginning Saturday, September 23. Renowned Swiss artist Zimoun will transform the Figge Art Museum's third-floor gallery into a mesmerizing realm of moving cardboard towers accompanied by an orchestra of captivating sounds. Visitors will be able to walk amid the animated columns and experience the evocative sounds generated through friction, vibration, and resonance.
The installation incorporates over eighty towering stacks of cardboard, each reaching a staggering height of 16 feet. What makes this exhibition truly extraordinary is that each of these cardboard columns are set in motion mechanically, creating a dynamic visual and auditory experience. As visitors explore the space, they will encounter a symphony of sounds, including scratching, scraping, rubbing, and clicking, filling the entire gallery.
"We are so excited to invite the community into this immersive art experience where visitors will encounter a remarkable convergence of visual and auditory elements, reminding us of all of the boundless possibilities that art can offer," said Figge Executive Director Michelle Hargrave.
This installation challenges our boundaries of perception. Using cardboard boxes, Zimoun crafts an environment where sound and sight playfully interact. As visitors walk around the gallery, a myriad of rhythms and auditory illusions unfold, prompting visitors to think about what it is that they hear. Is it merely chaos? Or does it sound like falling rain before transforming into a procession of rail cars? Every visit to the installation promises a unique experience as the sounds, motion, and orientation of the boxes within the towers change. What you see is what you hear in this dynamic installation.
The distinctiveness of Zimoun's work lies in its simplicity of construction and the complexity of the soundscape it produces. Despite its intricate mechanics, Zimoun's installation is environmentally conscious. It uses minimal electricity and features components designed for reusability and recyclability and generates little to no waste during construction and operation. It is a testament to the artist's commitment to sustainable art practices.
Zimoun lives and works in Bern, Switzerland and has exhibited his work internationally in institutions, including the Museum Haus Konstruktiv Zurich, Museum of Contemporary Art MAC Santiago de Chile, and Kunstmuseum Bern, to name a few. His innovative approach to combining visual and auditory elements has garnered acclaim from both art enthusiasts and engineers alike. In addition to his installation compositions, Zimoun is known for creating purely sound works that explore microscopic sounds and noises. These recordings are often designed for multi-channel sound systems, immersing listeners in three-dimensional auditory experiences.
The local premier sponsor for this exhibition is Shaun and Vicki Graves, supporting sponsors include SSAB Iowa and The Current Iowa, and the contributing sponsor is Xenotronics Company. Zimoun will be on view through February 4, 2024.
About the Figge Art Museum:
The Figge Art Museum is dedicated to bringing art and people together. Located on the Mississippi River in downtown Davenport at 225 West Second Street, the Figge is the premier art exhibition and education facility between Chicago and Des Moines. Its landmark glass building, designed by British architect David Chipperfield, is home to one of the Midwest's finest art collections and presents world-class exhibitions,art classes, lectures, and special events that attract visitors of all ages. Museum hours are 10 a.m.­­-5 p.m.Tuesday, Wednesday, Friday, and Saturday; 10 a.m.-8 p.m. on Thursdays; and 12-5 p.m. on Sundays.Reservations are not required, but can be made at www.figgeartmuseum.org or by calling 563-345-6632. Admission to the museum is $10 for adults, $6 for seniors and students with ID and $4 children ages 4-12. Admission is free to Figge members and institutional members and to all on Thursday evenings. You can become a member for as little as $50 by visiting the Figge website. To contact the museum, please call 563.326.7804, or visit www.figgeartmuseum.org.
-END-