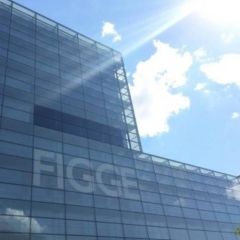 PRESS RELEASE
Renowned Pioneering Abstract Expressionist Sculptor Ibram Lassaw's Wearable Sculptures on View at the Figge Art Museum
September 5, 2023
---
PRESS RELEASE
FOR IMMEDIATE RELEASE
Renowned Pioneering Abstract Expressionist Sculptor Ibram Lassaw's Wearable Sculptures on View at the Figge Art Museum
Davenport, Iowa (September 5, 2023) – Whether you're a young child, an old adult, or any age in between, there is an enduring fascination with space. Over the years, particularly in the last century, artists have incorporated space into their artmaking as a direct response to the curiosity space evokes in us all.
Ibram Lassaw, a visionary artist who made his mark in the world of Abstract Expressionism and monumental metal sculptures, is one of the many artists who utilizes space as a primary material in his work. An exhibition of his lesser known yet equally captivating wearable sculptures will be on view beginning Saturday at the Figge Art Museum.
Quanta of Space: The Bosom Sculpture of Ibram Lassaw is the first-ever exhibition to focus on Lassaw's innovative "Bosom Sculptures," a term he affectionately used for his necklaces and pendants. Thirty-six intricately welded pieces from this extraordinary collection of jewelry will be presented, as well as nine of his signature sculptures created over a span of five decades that provide a comprehensive overview of his work as a whole. This is the first time Lassaw's work will be exhibited in the state of Iowa.
"In Quanta of Space, we're granted the rare privilege of glimpsing Ibram Lassaw's creative spirit manifested in intimate form. Each piece of wearable art invites us into a deeply personal realm where abstract expressionism meets everyday life," said Michelle Hargrave, the Figge's Executive Director and CEO.
Lassaw incorporates unique combinations of metals with the techniques, colors and forms found in his large-scale direct metal sculptures into his wearable sculptures. His inspiration comes from automatic drawing, surrealist impulses, Zen Buddhism, cosmetology, and quantum physics, making his art an expression of his multifaceted interests.
"The more closely we look at Lassaw's necklaces and pendants, the more we can find in them the shapes and forms of the macro and microcosms of which we are a part," said Figge Director of Collections and Exhibitions Andrew Wallace. "His forward thinking resulted in the creation of works that transcended the prevailing styles of his day which, in many respects, helps them to remain timelessly modern."
This exhibition isn't just another retrospective because it features Lassaw's innovative "Bosom Sculptures." Typically, jewelry is often seen as a separate endeavor from larger artistic projects like sculpture and painting. However, this exhibition makes it clear that for Lassaw, jewelry is not just an accessory but an extension of his artistic universe. The inclusion of these unique pieces alongside his better-known works gives visitors the opportunity to experience Lassaw's artistic range and mastery while considering the fluid boundaries between "art" and "craft."
The exhibition will be accompanied by a fully illustrated catalogue edited by Andrew Wallace, with essays by Wallace, Nancy G. Heller, Denise Lassaw, and Marin R. Sullivan. Catalogue essays provide context to his life, his contributions to Modernist studio jewelry at mid-century and the forces that inspired him.
Quanta of Space is made possible by contributing sponsors Wynne and David Schafer and Expressions Jewelers. The program sponsor is the Jewish Federation of the Quad Cities. The exhibition will be on view through December 3, 2023.
Companion Program:
Scholar Talk: Dr. Marin R. Sullivan
Thursday, September 14
5 p.m. Member Reception | 6:30 p.m. Public Program
Hear from Dr. Marin R. Sullivan as she shares her research on Ibram Lassaw's Synagogue commissions as well as more general sculptural commissions for architectural settings at mid-century. We encourage museum members to join us for a Member Reception, beginning at 5:00 p.m. The Scholar Talk begins at 6:30 p.m. and is FREE and open to the public.
Free admission and programs for Thursdays at the Figge sponsored by Chris and Mary Rayburn
About the Figge Art Museum:
The Figge Art Museum is dedicated to bringing art and people together. Located on the Mississippi River in downtown Davenport at 225 West Second Street, the Figge is the premier art exhibition and education facility between Chicago and Des Moines. Its landmark glass building, designed by British architect David Chipperfield, is home to one of the Midwest's finest art collections and presents world-class exhibitions, art classes, lectures, and special events that attract visitors of all ages. Museum hours are 10 a.m.­­-5 p.m. Tuesday, Wednesday, Friday, and Saturday; 10 a.m.-8 p.m. on Thursdays; and 12-5 p.m. on Sundays. Reservations are not required, but can be made at www.figgeartmuseum.org or by calling 563-345-6632. Admission to the museum is $10 for adults, $6 for seniors and students with ID and $4 children ages 4-12. Admission is free to Figge members and institutional members and to all on Thursday evenings. You can become a member for as little as $50 by visiting the Figge website. To contact the museum, please call 563.326.7804, or visit www.figgeartmuseum.org.
-END-