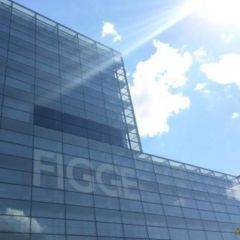 PRESS
Scrimmage: Football in American Art from the Civil War to the Present
January 18, 2017
---
Opens Saturday at the Figge Art Museum

Davenport, Iowa (January 18, 2016) – Scrimmage: Football in American Art from the Civil War to the Present opens on Saturday in the fourth floor gallery at the Figge Art Museum

Scrimmage features 78 artworks, dating from the 1850s to 2014, that take as their subject various aspects of the game of football. Rather than presenting a history of the sport, Scrimmage raises questions about sports, art, and their roles in our history and culture, revealing attitudes and transitions in American life over the past 150 years.

There are works by artists such as Winslow Homer and J.C. Leyendecker which illustrate the concept of the "strenuous life" championed by President Teddy Roosevelt, while works by Andy Warhol and Red Grooms embody the cult of the celebrity athlete that is so prominent today. Other artists address issues of class, ethnicity, gender and violence as they relate to the sport of football. Some works, such as Frederic Remington's Touchdown, Yale vs. Princeton, are straightforward depictions of the early days of the sport, while others offer more ambiguous commentaries on football's meaning in the larger society.

To compliment the exhibition, the Figge ground floor will feature objects and artifacts that highlight the rich history of football in the Quad Cities and in the region, including the Heisman Trophy won by John Lujack at Notre Dame in 1947. A longtime Quad Cities resident and community leader, Mr. Lujack is the oldest living recipient of the Heisman, one of the most prestigious awards in college sports.

Scrimmage is presented at the Figge with the support of the Thomas A. and Mary Waterman Gildehaus Memorial Fund, Tom Figge, and Jeff and Lynda Eirinberg and organized by Linny Frickman at the Gregory Allicar Museum of Art at Colorado State University at Fort Collins in partnership with Danielle Knapp at the Jordan Schnitzer Museum of Art at the University of Oregon, Eugene.

The exhibition will be on display through May 14.

Companion Events
Thursday, February 2
5:30 p.m. Reception / 7 p.m. Lecture
Opening reception & Curator Lecture with Linny Frickman
Thursday, February 23
5:30 p.m. $6 Sandwich baskets & cash bar
6 p.m. Film Screening
Social hour & Figge One-Minute Film Contest: Friday Night Lights

Thursday, March 9
5:30 p.m. Social Hour / 7 p.m. Talk
Social hour & Author Talk with Dr. Thomas Oates

Thursday, April 20
5:30 p.m. Social Hour / 7 p.m. Talk
Social hour and Exhibition Talk: Dr. Jaime Schultz

Thursday, May 11
5:30 p.m. Social Hour / 7 p.m. Talk
Social Hour and Exhibition Talk: Brett Biebel

Exhibition Tours
1:30 p.m. Sunday, February 12
1:30 p.m. Saturday, February 25
1:30 p.m. Saturday, March 18

About the Figge Art Museum:
The Figge Art Museum is located on the riverfront in downtown Davenport at 225 West Second Street. Hours are from 10 a.m. to 5 p.m., Tuesday through Saturday and Sundays noon to 5 p.m. Thursdays the museum is open until 9 p.m. Admission to the museum and tour is $7 for adults, $6 for seniors and students with ID and $4 children ages 4-12. Admission is free to Figge members and institutional members, and free to all on Thursday evenings from 5 p.m. to 9 p.m. The Figge Café is open 11 a.m.-2 p.m. Tuesday-Friday. To contact the museum, please call 563.326.7804, or visit www.figgeartmuseum.org.