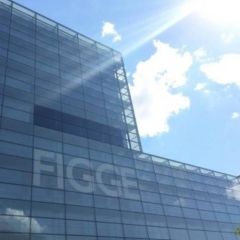 PRESS RELEASE
The Figge's First Virtual Exhibition, QC Pride, Opens Online Saturday
May 4, 2020
---
PRESS RELEASE
FOR IMMEDIATE RELEASE
The Figge's First Virtual Exhibition, QC Pride, Opens Online Saturday
Davenport, Iowa (May 1, 2020) – The Figge Art Museum is celebrating Quad Cities Pride beginning Saturday with a virtual exhibition of works by Photojournalist Andy Abeyta.
QC Pride Photographs by Andy Abeyta will be installed in the Figge's second-floor Lewis Gallery once the museum reopens, but will also be available for online viewing at www.figgeartmuseum.org.
QC Pride Photographs features 11 of Abeyta's joyous and vibrant images of the 2019 QC Pridefest, part of the QC Pride's Unity Pride Week. Tee LeShoure, President of Quad-Cities Unity Pride, states of the organization, "QC Pride is dedicated to promoting awareness and visibility of the LGBTQ+ community in the Quad Cities region. Since 2017, our organization has put a spotlight on the LGBTQ+ community, showcasing their talents, stories and lives."
As a photojournalist, Andy Abeyta is invested in documenting and sharing the stories of others. The dissemination of images via photojournalism can have a powerful influence on public perception. Whether it is social protest, celebrations, or the story of individuals within a community, images can serve to humanize social issues and Abeyta's powerful portraits of pride in the Quad Cities do just that.
"At the Figge, we want to celebrate the rich array of voices that make us proud to be a part of the Quad Cities," says Figge Assistant Curator Vanessa Sage. "Through this exhibition, I hope that everyone will think about what brings us together as human beings and to celebrate what makes us unique."
"June is Pride month, which is a natural tie-in for this exhibition," says Figge Executive Director and CEO Michelle Hargrave. "With the uncertainty surrounding Pride celebrations this June, this exhibition serves as a reminder of what Pride month is all about and the sense of unity it fosters." Visit https://qcunitypride.org/ for updates on this year's QC Pride Unity Week (new dates TBA) and stay tuned for online engagement opportunities for the month of June.
This will be the Figge's first virtual exhibition in the museum's history, according to Hargrave. She says, "Now more than ever, it's important we bring the power of art to our audiences. Online exhibitions are one way we can share works of art with everyone everywhere, allowing them to experience what's in our galleries from the safety of their homes, We are thrilled that through our virtual offerings we can continue to engage people with the objects, the artists, and each other and, by doing so, inspire, connect, soothe and spark creativity in those in our community and beyond."
QC Pride: Photographs by Andy Abeyta will close on August 2, 2020.
About the Artist: Andy Abeyta is originally from Portland, Oregon and currently resides in Cedar Rapids, Iowa. He received his BA in Journalism from the University of Oregon. The suite of photographs was taken by Abeyta for the Quad-CityTimes in 2019. He is currently a photojournalist for The Gazette in Cedar Rapids.
About the Figge Art Museum:
The Figge Art Museum is dedicated to bringing art and people together. Located on the Mississippi River in downtown Davenport at 225 West Second Street, the Figge is the premier art exhibition and education facility between Chicago and Des Moines. Its landmark glass building, designed by British architect David Chipperfield, is home to one of the Midwest's finest art collections and hosts world-class traveling exhibitions, art classes, lectures, and special events that attract visitors of all ages. The museum hours are from 10 a.m.-5 p.m., Tuesday through Saturday and Sunday from noon-5 p.m. On Thursdays, the museum is open until 9 p.m. Admission to the museum and tour is $10 for adults, $6 for seniors and students with ID and $4 children ages 4-12. Admission is free to Figge members and institutional members and always free to all on Thursday evenings from 5 p.m.-9 p.m. The Figge Café is open from 11 a.m.-2 p.m. Tuesday-Friday. To contact the museum, please call 563.326.7804, or visit www.figgeartmuseum.org. To Learn more about QC Unity Pride visit https://qcunitypride.org/ To Learn more about Andy Abeyta visit http://www.andyabeyta.com/
–END–