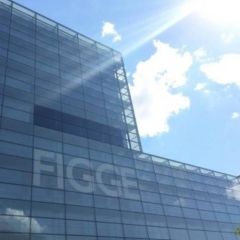 PRESS RELEASE
The Night Sky is the Star of the Figge's Latest Exhibition
June 13, 2023
---
PRESS RELEASE
FOR IMMEDIATE RELEASE
Davenport, Iowa (Tuesday, June 13, 2023) — Prepare to be starstruck as the Figge Art Museum welcomes Iowa Night Skies: Photographs by Johnny Brian to its galleries. This captivating exhibition, opening on Saturday, June 17, showcases the work of Iowa City-based photographer Johnny Brian, who has captured the mesmerizing beauty of the celestial world above us.
Iowa Night Skies: Photographs by Johnny Brian features a dozen of Brian's stunning pigment prints. By using a technique that exposes film over extended periods, Brian is able to capture the intricate details of the nocturnal tableau that unfolds above our heads each night. From the enchanting Milky Way to comets, meteors, aircraft, satellites, and even fireflies, his photographs offer a breathtaking glimpse into the ever-changing canvas of our Midwestern skies.
A retired anesthesiologist and chemical and biomedical researcher, Brian has nurtured a lifelong passion for photography. "In the first grade (1963), my parents gave me an Instamatic 100 camera that I still have to this day," he said. "I have traditionally been a large and medium format film-based photographer, but with the pandemic and lockdown in 2020, I decided that I had to reinvent myself and my photography with a new photo project."
During the summer 2020, Brian spent his time photographing the night sky from his yard. "It was a fortuitous time to take up night sky photography due to the appearance of the Neowise Comet," explained Brian. "On June 17, 2020, I stepped out of my basement door, equipped with a digital camera with a 70 to 200 mm zoom lens and a tripod. I situated the tripod immediately outside the door and adjusted the F stop shutter speed and ISO of the camera and clicked off the first frame. When I reviewed the frame on the camera screen, I was astonished to find it contained the Neowise Comet with its fiery green head and long plume like tail being fully evident."
Since that day, Brian has captured over 60,000 images of the night sky from his yard, continuously finding inspiration in the celestial ballet of stars, meteors, and comets.
Now, the Figge Art Museum is thrilled to showcase Johnny Brian's extraordinary body of work. "As a retired anesthesiologist and accomplished chemical and biomedical researcher, Johnny Brian brings a unique perspective to his photography," said Figge Executive Director and CEO Michelle Hargrave, "Through his meticulous technique of exposing film over extended periods, Brian's prints offer us a mesmerizing and unique glimpse into the awe-inspiring beauty of the night sky."
As you explore the exhibition, don't miss Brian's personal favorite, titled "Meteor, Milky Way over Farm," which captures the enigmatic allure of the Milky Way at night, enhanced by the serendipitous appearance of a meteor—a true icing on the cake, as Brian aptly describes it.
The contributing sponsor for Iowa Night Skies is The Joyce and Tony Singh Family Foundation. The exhibition will be on view through August 27, 2023, in the Figge's second-floor Katz Gallery.
Companion Events:
The Katz Gallery: Celebrate the Exhibitions of Ansel Adams & Johnny Brian
Thursday, July 20
5 p.m. Member Reception | 6:30 p.m. Celebration
Celebrate the opening of two new exhibitions - Ansel Adams, The Sierra Club, and the Making of a Landscape Icon, and Johnny Brian's Iowa Night Skies, featuring special guest and Iowa City artist Johnny Brian. Figge members are invited to join us for the opening reception starting at 5 p.m. Public program begins at 6:30 p.m.
Free admission and programs for Thursdays at the Figge sponsored by Chris and Mary Rayburn.
Free Family Day
Sunday, August 6, 12 p.m.
Happy Birthday Figge! Celebrate with us at this Free Family Day featuring our summer exhibitions. Scheduled activities from 12-3 p.m., including art-making demonstrations, and docent interactions. FREE admission all day!
About Johnny Brian:
Johnny Brian is an accomplished large and medium format photographer and printer. Working primarily in black and white film, he develops and prints his negatives using traditional gelatin silver and gum bichromate processes. Brian's work has appeared in Fraction Magazine's 9th anniversary issue, and in the publication Gum Printing: A Step by Step Manual by Christina Anderson. His prints have been exhibited at the Soho Photo Gallery in New York as well as locally. Brian is a retired anesthesiologist with over forty years of experience in chemical and biomedical research.
About the Figge Art Museum:
The Figge Art Museum is dedicated to bringing art and people together. Located on the Mississippi River in downtown Davenport at 225 West Second Street, the Figge is the premier art exhibition and education facility between Chicago and Des Moines. Its landmark glass building, designed by British architect David Chipperfield, is home to one of the Midwest's finest art collections and presents world-class exhibitions, art classes, lectures, and special events that attract visitors of all ages. Museum hours are 10 a.m.­­-5 p.m. Tuesday, Wednesday, Friday, and Saturday; 10 a.m.-8 p.m. on Thursdays; and 12-5 p.m. on Sundays. Reservations are not required, but can be made at www.figgeartmuseum.org or by calling 563-345-6632. Admission to the museum is $10 for adults, $6 for seniors and students with ID and $4 children ages 4-12. Admission is free to Figge members and institutional members and to all on Thursday evenings. You can become a member for as little as $50 by visiting the Figge website. To contact the museum, please call 563.326.7804, or visit www.figgeartmuseum.org.
-END-