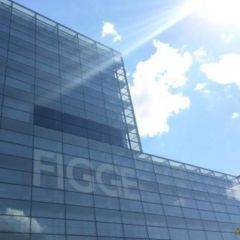 PRESS
Two Americans in Paris: Stuart Davis and Grant Wood
July 9, 2014
---
(July 9, 2014) –Two Americans in Paris: Stuart Davis and Grant Wood will be the first exhibition to open in the newly named Katz Gallery on the second floor of the Figge Art Museum.

Opening Saturday, Two Americans in Paris will feature works by artists Grant Wood and Stuart Davis. Both studied in Paris during the1920s and depicted scenes of American life in their work. Wood emerged as a leading spokesman for Regionalism, while Davis was a strong proponent of American modernism.

The exhibition will include paintings and works on paper that demonstrate the influence of European art on their careers. Selections from the Figge's Grant Wood Archive as well as an assortment of Stuart Davis lithographs from a private collection will be on display.

Featured works include Wood's Return from Bohemia (1935) and History of Penmanship(1933) and a suite of prints by Davis that reflect the influence of Fernand Leger, Henri Matisse and other prominent Parisian painters.

Curated by Figge Curator Dr. Rima Girnius and sponsored by Don and Connie Decker and Robert W. Baird, this exhibition will be on view through November 2, 2014.