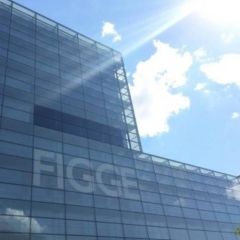 PRESS RELEASE
Two Centuries in the Making: The Story of American Art Through Their Eyes
February 16, 2021
---
PRESS RELEASE
FOR IMMEDIATE RELEASE
Two Centuries in the Making: The Story of American Art Through Their Eyes
The Figge Art Museum opens a major, traveling exhibition, For America: 200 Years of Painting from the National Academy of Design
Davenport, Iowa (February 16, 2021)—Thanks to the Major Exhibitions Endowment started by individuals, families, businesses, and organizations across the Quad Cities community, the Figge Art Museum is thrilled to open a new major, traveling exhibition, For America: 200 Years of Painting from the National Academy of Design. Organized by the American Federation of Arts and the National Academy of Design in New York, the exhibition is making stops at renowned museums across the United States, including the Figge.
Presenting nearly 100 artworks spanning over 200 years from 1809 to 2013, For America features must-see masterpieces by revered American artists such as William Merritt Chase, John Singer Sargent, Cecilia Beaux, Charles White, Jaune Quick-to-See Smith, and many others. The exhibition presents a unique history of American art as seen through the lens of artists. Exploring how these individuals have represented themselves and their country over time, the exhibition is a striking portrait of broadening diversity throughout the country's history.
"This is an incredible exhibition that explores our commonalities as well as our differences," said Michelle Hargrave, the museum's executive director and CEO. "It's also an exceptional opportunity for dialogue and connection about what we all have in common: our country."
During this moment of social distancing, visiting the Figge offers a once-in-a-lifetime experience. Sprawling across three floors and in adherence with the museum's strict safety precautions that include capacity limits, visitors have the chance to view the exhibition without the hassle of crowds. This rare, VIP-like experience is accessible to all who walk through the museum's doors—and has the added benefit of being extraordinarily safe. "There's truly no better time to visit the Figge," said Hargrave. "We're so fortunate to have a facility with ample space that allows our visitors to safely view these masterworks."
For America's opening in 2021 is extraordinarily timely, as the journey through the exhibition reflects significant cultural shifts in America that we continue to experience as a nation. Featuring many artist portraits, some side-by-side with paintings by those very artists, For America distills themes of self-reflection and self-awareness. A unique and thought-provoking opportunity to view America through the eyes of others, the exhibition urges viewers to build a deeper understanding of our shared histories and the rich complexities of what it means to be American.
The exhibition highlights shifts in figurative painting over the course of the last two centuries, revealing how individual artists balance subjectivity and objectivity. This framework offers viewers an intimate look into the minds of the artists while exploring a question that human beings have long wrestled with: how do we perceive ourselves and the world in which we live?
"This is an unprecedented look at the history of American painting—written by its makers. We've never seen anything like this before, and we're honored to be hosting such an extraordinary exhibition at the Figge," said Hargrave. "At a time when Americans are reflecting on all that unites us, this exhibition offers a glimpse into the lessons of the past that we can carry into the future with greater perspective."
For America is organized into five sections, each reflecting continuing shifts in society, culture, and the state of art during the 19th- and 20th-centuries. The works on display encourage viewers to explore the joys and hardships of American life through diverse artistic perspectives—ranging from Paul Sample's painting of the unemployed during The Great Depression, to the expressively painted Snake Dance by Native American artist Jaune Quick-to-See Smith.
At its heart, For America urges viewers to see and appreciate the world through the eyes of others—in true American spirit—particularly as diversity has increased among the National Academy's body of artist and architect Academicians. Expressing the message that despite our differences, we're all Americans, the exhibition is an effective display of unity that proves the healing power of art.
During the presentation of For America, the Figge will offer engaging museum programming, a state-of-the-art virtual exhibition, and partnerships with Quad City cultural organizations, all of which will provide exciting new perspectives on American art and an experience extending far beyond the museum's walls. In addition, the Figge has a robust program of virtual and in-person events that are open to the community. Upcoming events include coffee with the Figge's curators, and a four-week online course dedicated to the women who worked behind the scenes to build America's art scene, and much more. For more information about the Figge's programming, visit www.figgeartmuseum.org.
For America's exhibition at the Figge is sponsored by Major Exhibition Endowment donors, Estes Construction, Harris Family Charitable Gift Fund, US Bank, Alan and Julie Renken, Mark and Rita Bawden, and BITCO Insurance Companies. The exhibition is made possible by the Major Exhibitions Endowment Fund and is on view from February 20, 2021, to May 16, 2021, with February 20-21 being member preview weekend. Tickets are on sale at $10 for adults, $6 for seniors, and $4 for children ages 4-12. Reservations are highly encouraged and can be made at www.figgeartmuseum.org.
##
EDITOR'S NOTE: Interviews with the Figge's executive director and the curator of this exhibition can be arranged by contacting Natalie Dunlop at 563.345.6651 or emailing ndunlop@figgeartmuseum.org.
Companion Events:
The Figge Art Museum hosts a range of events that bring together artists and leaders from across the country. A full list of companion events can be found at www.figgeartmuseum.org.
American Artists' Self-Portraits Then and Now
Coffee with the Curators
Women in American Art (Who Weren't Artists!)
February 25, 5 p.m. CT on Zoom
Grab a cocktail, get comfortable, and join recently retired Chief Curator Emerita Brandon Brame Fortune of the National Portrait Gallery, who will explore the role of portraiture through history during this exciting program that celebrates the exhibition For America: 200 Years of Painting from the National Academy of Design.
Behind the Scenes of For America Monday, March 8, 11 a.m. CT on Zoom
The event is free for members and $5 for non-members. Join the Figge's curatorial team as they discuss the planning and installation of a major traveling exhibition, followed by a Q&A.
Sunday, March 7, 14, 21, 28 2:30-3:30 p.m. CT on Zoom, $40 for members, $55 for non-members
Join Dr. Ranelle Knight-Lueth, assistant professor at Coe College, for a four-week online course focusing on the women who worked behind the scenes or with little recognition on building America's art scene.
About the Figge Art Museum:
The Figge Art Museum is dedicated to bringing art and people together. Located on the Mississippi River in downtown Davenport at 225 West Second Street, the Figge is the premier art exhibition and education facility between Chicago and Des Moines. Its landmark glass building, designed by British architect David Chipperfield, is home to one of the Midwest's finest art collections and hosts world-class traveling exhibitions, art classes, lectures, and special events that attract visitors of all ages. Museum hours are 10 a.m.-5 p.m. on Tuesdays, Wednesdays, Fridays, and Saturdays; 10 a.m.-8 p.m. on Thursdays; and 12 p.m.-5 p.m. on Sundays. Reservations are strongly encouraged and can be made at www.figgeartmuseum.org or by calling 563-345-6632. Admission to the museum is $10 for adults, $6 for seniors and students with ID and $4 children ages 4-12. Admission is free to Figge members and institutional members and to all on Thursday evenings. To contact the museum, please call 563.326.7804, or visit www.figgeartmuseum.org.
Things to know about the exhibition
For America is a chronicle of American art drawn from the collections of the National Academy of Design in New York. From its founding in 1825, the National Academy of Design and its honorary society of artist and architects has built its collection through the donations of its elected members.
For America is presented in five sections: Founding an American School, A New Internationalism, Painting America, Postwar Realisms, and For America.
The Figge presentation of For America is the result of the communal effort of art enthusiasts throughout our community, many of whom have sponsored one of the exhibition's paintings through the Adopt-a-Painting initiative. The presentation of 55 of the works in For America have been generously supported by our neighbors.
Regional artists and National Academicians have shared their range of perspectives on the artwork. Their comments provide common ground for viewers and artists alike to connect with one another, and to the American story.
For America: 200 Years of Painting from the National Academy of Design is organized by the American Federation of Arts and the National Academy of Design, New York. Support for the national tour is provided by the JFM Foundation, Monique Schoen Warshaw, and Steph & Jody La Nasa. The exhibition is curated by Jeremiah William McCarthy, Curator, and Diana Thompson, Director of Collections, National Academy of Design.
­–END–