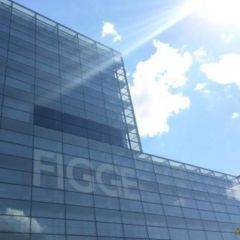 PRESS
University of Iowa Art Faculty Biennial Exhibition
March 30, 2015
---
(March 30, 2015) – Opening Saturday at the Figge Art Museum in the fourth floor gallery is the University of Iowa Art Faculty Biennial exhibition.

Curated by University of Iowa Museum of Art (UIMA) Museum Director Dr. Sean O'Harrow, the UIMA will kick off the spring season with this annual exhibition featuring the recent work of world renowned UI Studio Arts professors including: Eliza Au, Isabel Barbuzza, Peter Chanthanakone, Monica Correia, John Dilg, Laurel Farrin, Sue Hettmansperger, Anita Jung, Sarah Kanouse, Michele Lauriat, Amanda Lechner, Steve McGuire, Daniel Miller, Virginia Myers, Jeff Rich, Ronald M. Rozencohn, James Snitzer, Margaret Stratton, Serina Sulentic, Serhat Tanyolacar, Breanne Trammell, Josh Van Stippen, Susan Chrysler White, Rachel Williams, Jon Winet and Kee-Ho Yuen.

As a direct reflection of the range of medium taught in the Studio Arts program, the pieces and installations on display will include works of paint, sculpture, inter-media, mixed-media, metal arts, photography, 3-dementional design and graphic design. This year, works by the fellows of the Grant Wood Colony will also be included.

A free public reception celebrating the opening of this exhibition as well as the Eye on UI: Brodsky, Dorfman, Kipniss, Lanyon exhibition will take place at 3 p.m. on Saturday, April 11 with light appetizers and a cash bar. Free and open to the public.

University of Iowa students, faculty and staff receive free admission to the Figge with their UI ID cards; UIMA members get in free with their UIMA Membership cards.

The exhibition will be on display April 4 – May 31, 2015.


Companion Programming:
Dancers in Company Performance
6 p.m. Thursday, April 9 Free Admission Dancers in Company consists of twelve dancers, undergraduates and graduate students from the University of Iowa. The group will return to the Figge for a performance in the lobby as part of a night that celebrates the artistic traditions at the University of Iowa. Presently, the company is directed by Charlotte Adams. Sponsored by the River Cities' Reader.
Artist Talks
7 p.m. Thursday, April 9
Free Admission
University of Iowa faculty from the School of Art will speak about their pieces included in the exhibition University of Iowa Art Faculty Biennial (April 4-May 31).