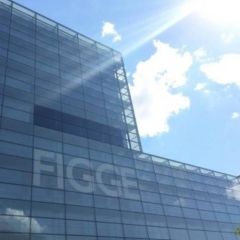 News
University of Iowa Museum of Art collection will return to home state
January 23, 2009
---
University of Iowa News Release
Jan. 23, 2009

An intra-state alliance will soon bring the University of Iowa Museum of Art's (UIMA) collection back to Iowa.
The Figge Art Museum, Iowa's oldest art museum, has offered the UIMA significant space for display and storage of its permanent collection, Museum of Art-organized exhibitions and traveling shows in its three-year-old, state-of-the-art museum building in Davenport, Iowa.
"The Figge Art Museum is honored to partner with the University Of Iowa Museum Of Art," said Figge Director Sean O'Harrow. "Having the UIMA at the Figge will allow Iowa residents and tourists to visit the banks of the Mississippi and appreciate two great collections from two great institutions. The Figge is looking forward to hosting our new friends and celebrating art in Eastern Iowa."
With the exception of a selection of nearly 250 works of art that returned to campus in October, the UIMA collection has been in storage in Chicago since its evacuation during the June 2008 flood. Access to that facility for students, faculty, and staff has been limited, and public access was unavailable.
Having the UIMA collection at the Figge, located an hour from the UI campus at 225 West Second St. in downtown Davenport, offers a chance for the public to reengage with the UIMA collection, said Pamela White, interim director for the UIMA.
"This collaboration with the Figge marks a ground-breaking step in getting Iowa's art back in Iowa," White said. "It will allow the UIMA space to exhibit, preserve and store its collection as plans are made for the future of the UI Museum of Art."
"We are delighted that the Figge has so generously offered space in its museum to house a portion of the University of Iowa's collection," said UI President Sally Mason. "We, of course, look forward to the day when we can bring the collection home to the University. But, until then, it makes sense that these treasures be on display for the public to view, and especially in one of Iowa's most beautiful riverfront art museums."
The UIMA staff is currently working to finalize plans to install a special exhibition of UIMA masterworks, including the museum's famous Jackson Pollock "Mural," for public viewing at the Figge in April. The UIMA anticipates this show will travel to the Des Moines Art Center (DMAC) and tour nationally beginning in 2010.
All University of Iowa students, faculty, staff and UI Museum of Art donors will receive free admission to the Figge during regular hours. Along with gallery space, the Figge has re-organized its storage facilities in order to be able to offer the UIMA a significant amount of storage space—enough to house most of the UIMA collection, allowing the University's Museum of Art staff access to the collection in order to curate exhibitions, make loans to other institutions, perform general maintenance, and carry out other normal museum functions. Office space will also be allocated to some of the University staff for their museum work.
Nearly 250 prints, photographs and drawings from the Museum of Art's permanent collection are already on campus and available for view in the UI Libraries Special Collections by appointment. More information at http://news-releases.uiowa.edu/2008/october/100908artworks.html. In addition, the University is working with its fine arts insurance company, Lloyds of London, to find appropriate on-campus venues for the parts of the UIMA permanent collection and special exhibitions.
The UI Museum of Art offices have been relocated to the Studio Arts Building, 1840 SA, Iowa City, IA 52242. For up-to-date museum information, go online to http://www.uiowa.edu/uima or the UIMA blog, "Art Matters," at http://uima.blogspot.com, or call (319) 335-1725.
The Figge Art Museum, located in Davenport, Iowa, is an encyclopedic art museum with over 4,000 works of art, ranging from the 16th century to the present, and is best known for its extensive collection of Haitian < http://en.wikipedia.org/wiki/Haiti, Colonial Mexican <http://en.wikipedia.org/wiki/New_Spain> and Midwestern <http://en.wikipedia.org/wiki/Midwestern_United_States> art, particularly pieces by Thomas Hart Benton , John Steuart Curry, Marvin Cone <http://en.wikipedia.org/wiki/Marvin_Cone> and Grant Wood <http://en.wikipedia.org/wiki/Grant_Wood> , including the only self-portrait Wood ever painted. The Figge Art Museum is the re-named successor to the Davenport Museum of Art, which was opened in 1925 as one of the first municipal art galleries in the United States <http://en.wikipedia.org/wiki/United_States> . The new building was designed by Stirling Prize <http://en.wikipedia.org/wiki/Stirling_Prize> winning British architect David Chipperfield <http://en.wikipedia.org/wiki/David_Chipperfield> . For more information, visit http://www.figgeartmuseum.org
For UI arts information and calendar updates, visit http://www.uiowa.edu/artsiowa<http://www.uiowa.edu/artsiowa> . To receive UI arts news by e-mail, go to http://list.uiowa.edu/archives/acr-news.html <http://list.uiowa.edu/archives/acr-news.html> , click the link "Join or leave the list (or change settings)" and follow the instructions.
To request images for publication, contact Maggie Anderson, 319-335-1731, margaret-anderson@uiowa.edu <mailto:margaret-anderson@uiowa.edu> .
STORY SOURCE: University of Iowa Arts Center Relations, 300 Plaza Centre One, Suite 351, Iowa City, IA 52242-2500
MEDIA CONTACTS: Maggie Anderson, Museum of Art, 319-335-1731, margaret-anderson@uiowa.edu <mailto:margaret-anderson@uiowa.edu> ; Steve Parrott, University Relations, 319-335-0552, steven-parrott@uiowa.edu; Dan McNeil, Figge Art Museum, 563-326-7804, ext. 2047; dmcneil@figgeartmuseum.org