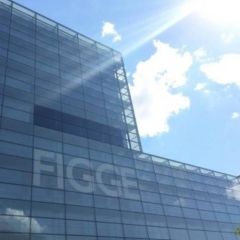 PRESS RELEASE
Vanessa German: Miracles and Glory Abound Opens May 11
May 6, 2019
---
PRESS RELEASE

FOR IMMEDIATE RELEASE
Vanessa German: Miracles and Glory Abound
to Open May 11 at the Figge Art Museum
Davenport, Iowa (May 6, 2019) – A multimedia installation by Pittsburgh-based artist Vanessa German will be on view at the Figge Art Museum beginning Saturday.
Vanessa German: Miracles and Glory Abound explores the power of stories through an assemblage of sculptures or "Power Figures," as German refers to them. The exhibition draws from both the visual and emotional concepts of the iconic painting, Washington Crossing the Delaware by Emanuel Leutze which has become a symbol for the birth of America. Leutze's painting contains many visual fabrications that mythologize rather than accurately depict a historical incident. German challenges Leutze's account of the scene by using her "Power Figures" to reimagine Leutze's version of history, retelling it through a different lens.
German's work incorporates her all female "Power Figures," made of everyday objects transformed into metaphors that explore the complicated, nuanced history of the United States and how that history relates to our current suffering in the echoes of violence, hate and materialism we witness in the news daily.
Miracles and Glory Abound invites conversation and cultivates important questions such as how do tales that pass from generation to generation change with each retelling and how this affects our understanding of history?
Poet, performer, citizen artist and activist, Vanessa German was the 2018 recipient of the prestigious Crystal Bridges Museum biennial Don Tyson prize for outstanding achievement in American Art. German also is the founder of ARThouse, a safe place for community engagement and art making located in the Homewood section of Pittsburgh, a place that lies at the heart of her art practice.
Miracles and Glory Abound is sponsored locally by Marc and Gma Howze, GLH Galleries, Dr. Randy and Linda Lewis, Quad City International Airport and Barbara Leidenfrost in loving memory of her husband, Oscar Leidenfrost. The exhibition will be on view through September 1, 2019.
Companion Events:
Artist Performance
6:30 p.m. Thursday, May 9
Celebrate the opening of the exhibition with a performance by Vanessa German.
Davenport Creative Arts Academy Installation
6 p.m. Thursday, May 23
Artist Colleen Tomlinson will introduce the Studio 1 exhibition created by students from the Davenport Creative Arts Academy, in conjunction with Miracles and Glory Abound. Visitors will be able to meet the student artists. This project was made possible thanks to a Quad City Arts' Arts Dollars Grant.
Film: State of the Art
6:30 p.m. Thursday, May 30
From award-winning filmmakers Craig and Brent Renaud and Arkansas Educational Television network, State of the Art Tells a story of diverse artists driven to create – with work that is intensely personal, firmly rooted in community, and inseparable from the lives they live. Their work offers a window into no only what concerns Americans, but also what lifts them up. Artist Vanessa German Is featured in the film.
Dance Performance
6:30 p.m. Thursday, June 6
Dorian Byrd and members of the Imani! Tandazo Dancers will provide a movement-based interpretive program in conjunction with Miracles and Glory Abound.
Poetry Slam
6:30 p.m. Thursday, August 15
Spoken word and visual artist Vanessa German will emcee a poetry slam in partnership with young women poets from the non-profit organization LOVE Girls Magazine.
Scholar Talk with Dr. Jo-Ann Morgan
6:30 p.m. Thursday, August 29
Dr. Jo-Ann Morgan will introduce her book, The Black Arts Movement and the Black panther Party in American Visual Culture, and focus on a little-known 1968 exhibition at the Oakland Museum called New Perspectives in Black Art.
About the Figge Art Museum:
The Figge Art Museum is located on the Mississippi River in downtown Davenport at 225 West Second Street. Hours are from 10 a.m. to 5 p.m., Tuesday through Saturday and Sunday from noon to 5 p.m. Thursdays the museum is open until 9 p.m. Admission to the museum and tour is normally $10 for adults, $6 for seniors and students with ID and $4 children ages 4-12. Admission is free to Figge members and institutional members, and always free to all on Thursday evenings from 5 p.m. to 9 p.m. The Figge Café is open 11 a.m.-2 p.m. Tuesday-Friday. To contact the museum, please call 563.326.7804, or visit www.figgeartmuseum.org.
–END–